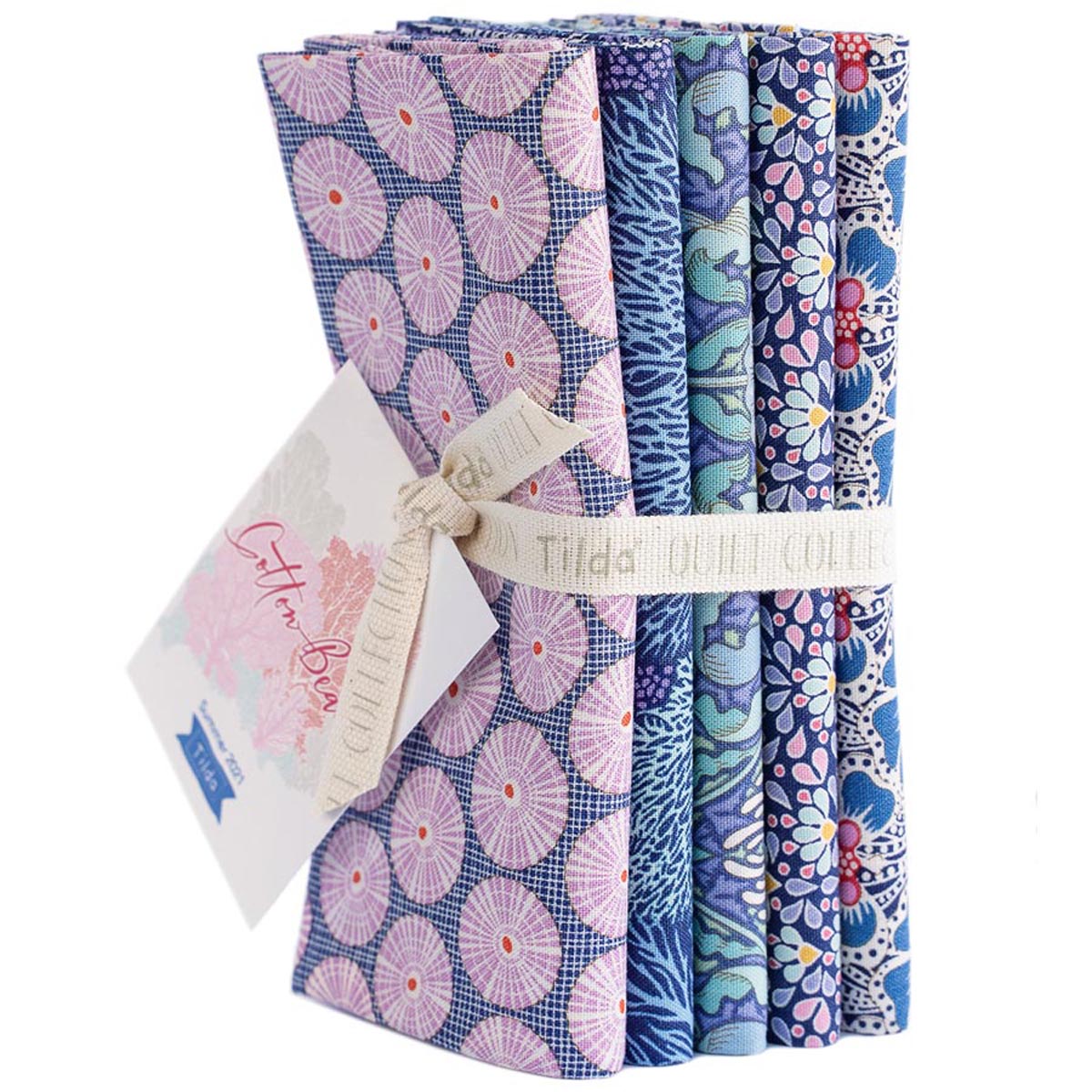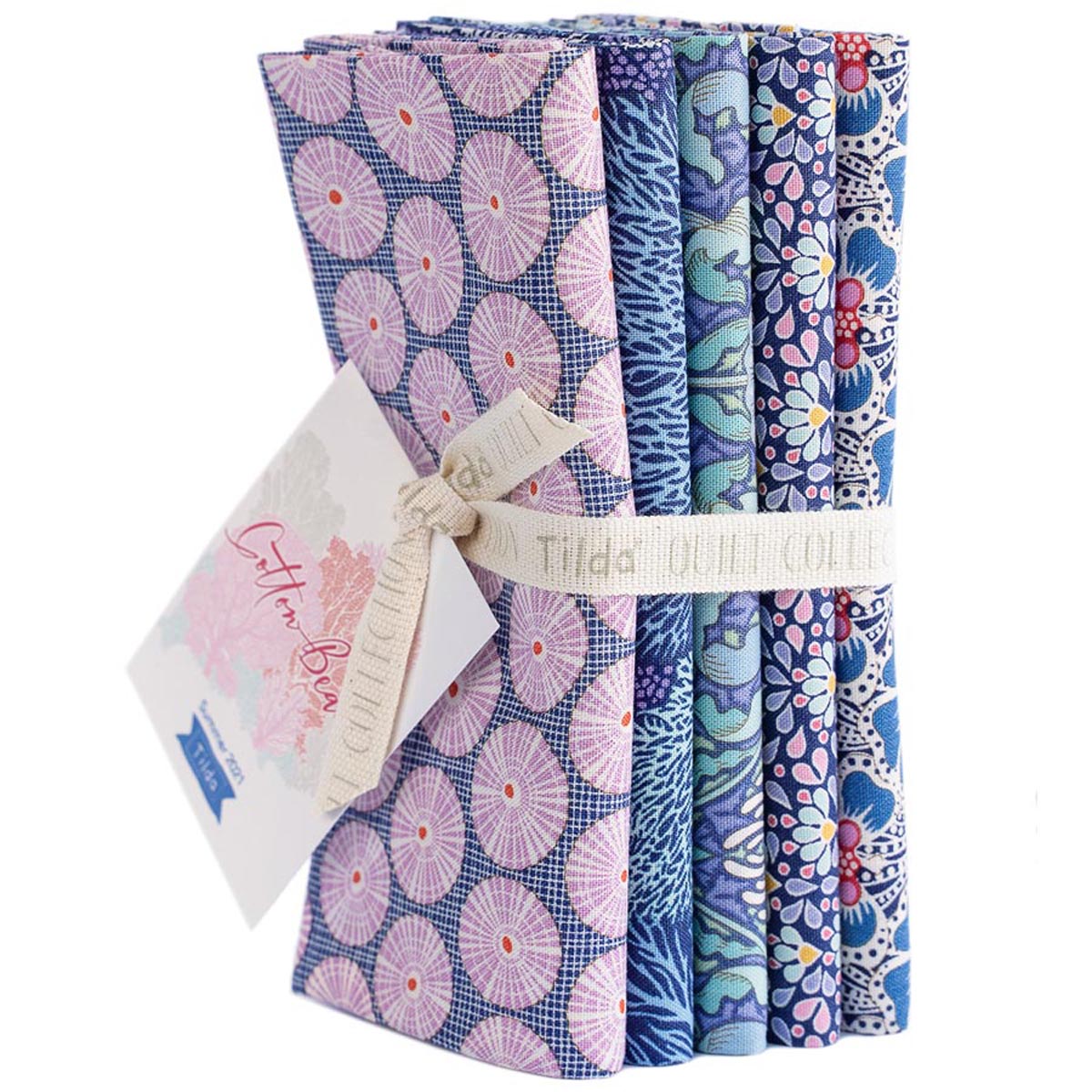 Tilda
Tilda COTTON BEACH - FQ Bundle - # 300106 Ocean - 5 FQ's
Sold Out
Ask us a question
THIS IS A PRE-0RDER FOR DELIVERY IN FEBRUARY 2022.
Cotton Beach: PRE-ORDERS are now being taken but we're not permitted to send the fabrics until they're officially released for sale in stores on the 1st February 2022...'Cotton Beach'...and the blenders to go with it, 'Beach Shells' and Chambray.
One Fat Quarter Bundle of 5 different fabrics each measuring 46cm x 55cm (18" x 21") from the Tilda Cotton Beach collection.
FABRIC: 100% Cotton (quilting, apparel, craft)
PALETTE:.   Multicoloured 
MANUFACTURER: Tilda
COLLECTION:  'Cotton Beach' - Released 1 February 2022
This beautiful collection of exquisite cool cotton fabrics is perfect for the Australian Summer.  The designs feature seashells, coral, sea anemones, and ocean flowers.  The soft, fresh, modern colour palette of varying shades of purple, coral, sandy grey, teal, blue and golden yellow hues, will certainly put a smile on your face.  In addition to the main 'Cotton Beach' collection, you will find five gorgeous blenders in soft hues, 'Beach Shells'. We have some beautiful Tilda Chambray that also blends with this collection.
FREE PATTERNS:  You can find beautiful Cotton Beach projects under 'Free Patterns' on Tilda's website:  www.tildasworld.com
ABOUT TILDA:
The perfectly imperfect world of Tilda...
Tilda is a fabric brand founded by Norwegian designer Tone Finnanger in 1999, best known for whimsical naive characters and charming fabric design. There is a certain attitude to life in Tilda's world, whimsical and romantic, like a ball gown worn with wellies – perfectly imperfect.
The Tilda range consists of products such as fabrics, kits, ribbons, buttons, accessories and books.  For free patterns visit www.tildasworld.com
DISCLAIMER: One of the drawbacks of buying fabric online is that in spite of every effort made by the Seller to provide a photo that represents the true colour of the item, it is impossible to do so, as the colour appears differently on every computer screen. Therefore the item you receive may be a slightly different shade to what appears on your computer screen.
SHIPPING: No online postage calculator is sophisticated enough to accurately compute postage based on both fabric value and weight. You are always welcome to ask us for a postage quote for multiple purchases. Should our automated postage calculator charge you more than 'actual' postage and you have already paid, we will immediately refund the overage.

INTERNATIONAL SHIPPING delivery times vary depending on the destination, Customs, and local postal service. Orders usually arrive in 10 -21 days although this can extend to 30+ days for Canadian deliveries. Peak period delivery times can delay delivery, especially in the lead up to Christmas.

CUSTOMS DUTY: If you are buying from outside of Australia, it is possible that you may be charged Customs Duty or other charges before your order will be released to you. We are in no way accountable for customs duty, handling fees or taxes that a Buyer may be required to pay upon delivery. We recommend that Buyers check with the appropriate authority in their country before they buy.

RETURNS/EXCHANGES: Whilst every effort is made to accurately process your order, mistakes can occasionally be made.

Exchanges or refunds are at the sole discretion of the Seller. ("I've changed my mind" is not an acceptable reason to return an item.) If you are unhappy with your purchase, please contact the Seller within 7 days of delivery for pre-approval before returning a purchase for exchange or refund. Unless the Seller has made a mistake and sent the wrong item(s) or the item differs significantly from the item description, the Buyer must pay for return postage including tracking. The Seller reserves the right to decide whether to exchange an item or refund the Buyer. If approved, a refund will be credited to the purchaser's credit card or PayPal account (their original method of payment) and unless we made a mistake will not include the original postage/shipping cost. Please allow up to 10 working days after our receipt of the returned item for your refund to be completed.