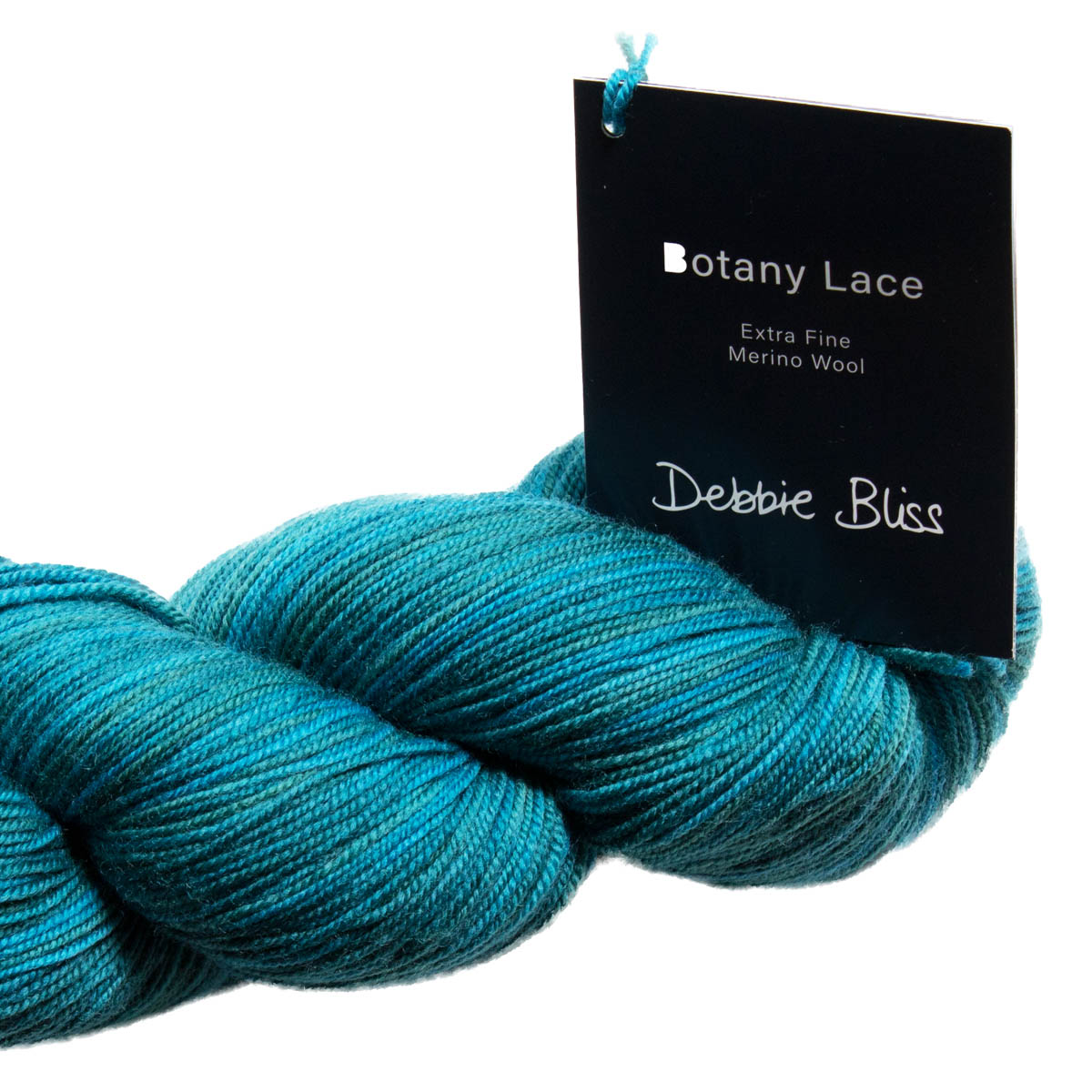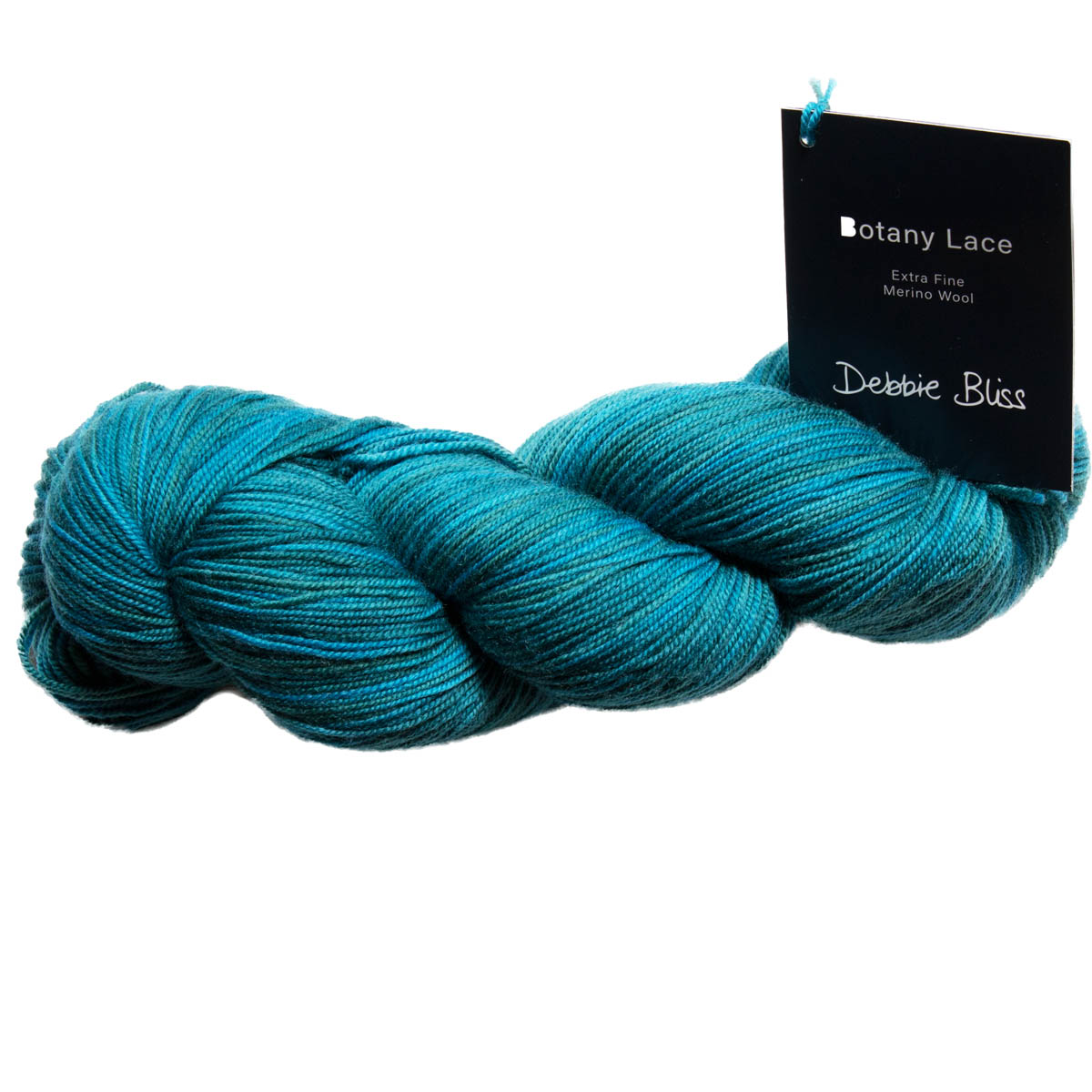 Debbie Bliss
BOTANY LACE - 100% Extra Fine Merino Wool - 4ply/Laceweight 100g + 410m
$21.00
Ask us a question
LOT: 59
COLOUR:  #3010 Cordoba - a gorgeous blend of teal blues and greens 
ORIGIN: Made in Italy

QUANTITY: This listing is for ONE skein/hank of Yarn only.

TO BUY MORE THAN ONE: To purchase more than TWO skeins, select the quantity you require from the dropdown box.

TO ORDER MORE: If you require more than we have listed please ask as we may have more stock on hand, or may be able to order some in for you.

ABOUT BOTANY LACE:
Botany Lace is a fabulous blend of colours in an extremely luxurious 100% extra fine merino wool.  Debbie Bliss Botany Lace is a 4 ply knitting yarn that produces garments of the finest quality.  The yarn provides excellent stitch definition, high quality and is a must for anyone wishing to create that extra fine high quality finished garment.  
Debbie Bliss Botany Lace Extra Fine 4ply Merino Wool is produced in Italy to the highest standards.
ADDITIONAL INFORMATION:

BRAND: Debbie Bliss

YARN CATEGORY: Cashmere & blends

COMPOSITION: 100% extra fine merino wool

BALL/SKEIN WEIGHT: 100 grams/410 metres

PLY: extra fine 4-ply (2ply thickness) / Lace Weight 

GAUGE: 29 sts

RECOMMENDED NEEDLE SIZE: 3.25mm (US3)

WASHING INSTRUCTIONS: Hand Wash

ABOUT DEBBIE BLISS:

Debbie Bliss has her own yarn line made up of beautiful classics in her signature palette. She is also the most published knitwear designer, with over 35 books, 20 booklets and her own magazine. She was also recently awarded with an MBE in the Queen's 2015 Birthday Honours List for her services to hand knitting and the craft industry.

IMPORTANT - PLEASE READ
DISCLAIMER REGARDING COLOUR: One of the drawbacks of shopping online is that every monitor or screen shows colour differently, and therefore the colour of the yarn that you see on your screen may not be a true representation of the actual colour. Therefore, the yarn you receive may be a slightly different colour/shade from what you expected.

If you have any questions about this yarn, please contact usbefore you buy.

CUSTOMS DUTY: If you are buying from outside of Australia, it is possible that you may be charged Customs Duty or other similar charges before your order will be released to you. We are in no way accountable for customs duty, handling fees or taxes that a Buyer may be required to pay upon delivery. We recommend that Buyers check with the appropriate authority in their country before they buy.

POSTAGE/SHIPPING: Postage/Shipping charges are based on item $ value, weight, bulk and destination.
NB: Should you be purchasing multiple items, it is best if you ask for a combined invoice with adjusted postage BEFORE you pay.

INTERNATIONAL CUSTOMERS: Shipping is set so that tracking kicks in at a certain value+weight point which can result in overcharging for orders of more than 4 items. So is best to ask for a postage/shipping quote before you buy. 

DELIVERY TO MULTIPLE DWELLINGS/SHOPPING CENTRES/OFFICE BUILDINGS:
NB: Delivery to a multiple dwelling/office/shopping complex must have tracking, so please do not select Regular Mail. If your delivery is to one of the above types of address and you have chosen Regular Mail instead of Prepaid Satchel, shipping with tracking, or Express Post, you may have voided your right to make a claim against the Seller for loss of, or damage to your order in transit.