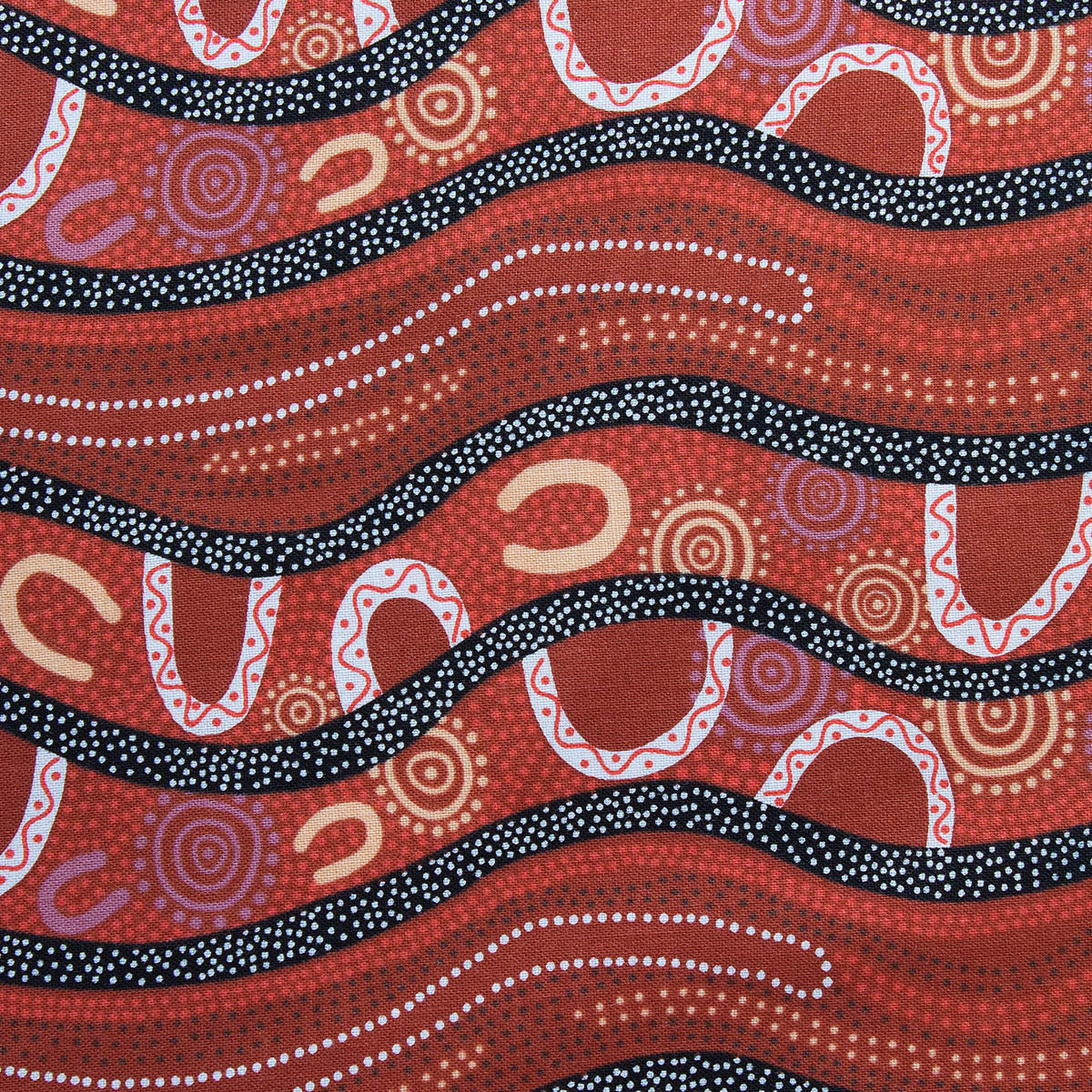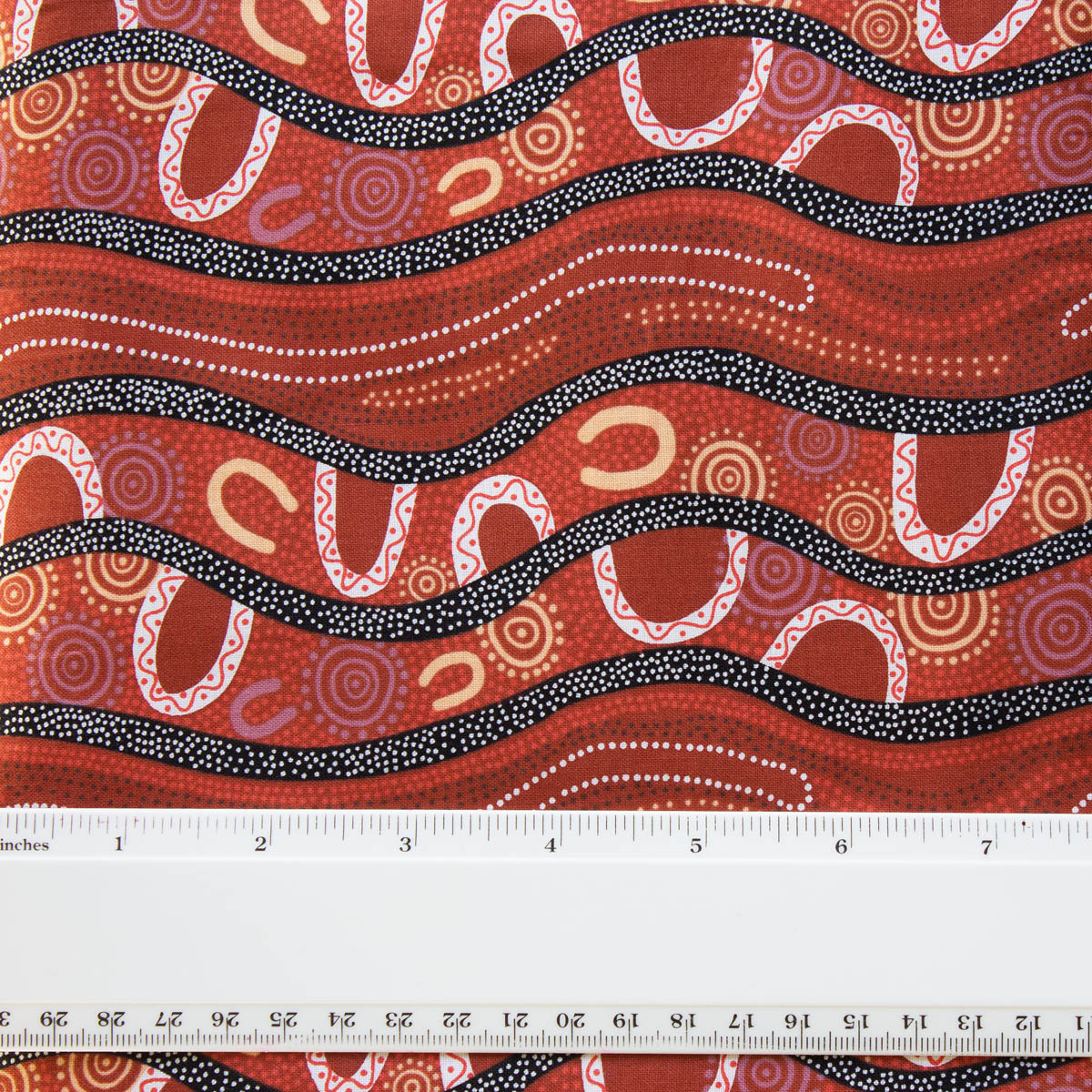 M & S Textiles Australia
GATHERING BY THE RIVER BURGUNDY by Australian Aboriginal Artist BARBARA EGAN
$5.00
Ask us a question
Premium quality 100% cotton quilting weight fabric suitable for quilting/patchwork, dressmaking/apparel, soft furnishings and craft.
Purchase continuous lengths by the 1/4m (25cmx112cm) unit:
1 unit  =    25cm x 112cm  (   9.84"x44")*
2 units =   50cm x 112cm  (   19.7"x44")
3 units =   75cm x 112cm  (   29.5"x44")
4 units = 100cm x 112cm  ( 39.37"x44")
5 units = 125cm x 112cm  (49.21"x 44")
6 units = 150cm x 112cm  ( 59.07"x44")
7 units = 175cm x 112cm  ( 68.91"x44")
8 units = 200cm x 112cm ( 78.75"x44") etc.
*If you would prefer a Fat Quarter (50cm x 56cm) instead of 25cm strip please leave a message as you go through the checkout.
**Purchases of more than 1 unit of the same fabric will be sent as a single piece.  
FABRIC: 100% Cotton (quilting, apparel, craft)
PALETTE: multicoloured with white, sand, orange, powdery mauve, earth red, black
MANUFACTURER: M & S Textiles Australia

AUSTRALIAN ABORIGINAL ARTIST:  BARBARA EGAN was born on the banks of the Murray River and later moved to Robinvale with her father.  In recent times Barbara has focused her art practice on her connection to Robinvale and the river surrounds.  Her artworks are shown in various art galleries and in private collections.
THE DESIGN:  Aboriginal people are regarded as the 'land owners' of Australia, and they consider the land to be more than just a 'place'.  They respect every mountain, river, waterhole, tree, animal, etc.  They believe that their Aboriginal ancestors are the creators of all the land and objects that are essential to their day-to-day life.
Traditional Aboriginal laws involve bush food, sea food, wild life, hunting, etc.  Yet the Aboriginal people honour their ancestral lands and the teachings of their ancestors and never hoard food or spoil the nature of their environment.
Many Aboriginal ceremonial rituals are conducted on the bank of a river where people gather and perform dances, story-telling, and other sacred rituals. 
DISCLAIMER: One of the drawbacks of buying fabric online is that in spite of every effort made by the Seller to provide a photo that represents the true colour of the item, it is impossible to do so, as the colour appears differently on every computer screen. Therefore the item you receive may be a slightly different shade to what appears on your computer screen.

CUSTOMS DUTY: If you are buying from outside of Australia, it is possible that you may be charged Customs Duty or other charges before your order will be released to you. We are in no way accountable for customs duty, handling fees or taxes that a Buyer may be required to pay upon delivery. We recommend that Buyers check with the appropriate authority in their country before they buy.

RETURNS/EXCHANGES: Whilst every effort is made to accurately process your order, mistakes can occasionally be made.

Exchanges or refunds are at the sole discretion of the Seller. ("I've changed my mind" is not an acceptable reason to return an item.) If you are unhappy with your purchase, please contact the Seller within 7 days of delivery for pre-approval before returning a purchase for exchange or refund. Unless the Seller has made a mistake and sent the wrong item(s) or the item differs significantly from the item description, the Buyer must pay for return postage. The Seller reserves the right to decide whether to exchange an item of refund the Buyer. If approved, a refund will be credited to the original purchaser's credit card or PayPal account (however they originally paid) and in most cases will not include the original postage/shipping cost. Please allow up to 10 working days after our receipt of the returned item for your refund to be completed.

SHIPPING:  We ship within 1 - 4 business days of purchase.  Shipping upgrades such as Express Post are available upon request.

INTERNATIONAL SHIPPING delivery times vary depending on the destination, Customs, and local postal service. Orders usually arrive in 10 -21 days although this can extend to 30+ days for Canadian deliveries. Peak period delivery times can also delay delivery, especially in the lead up to Christmas.