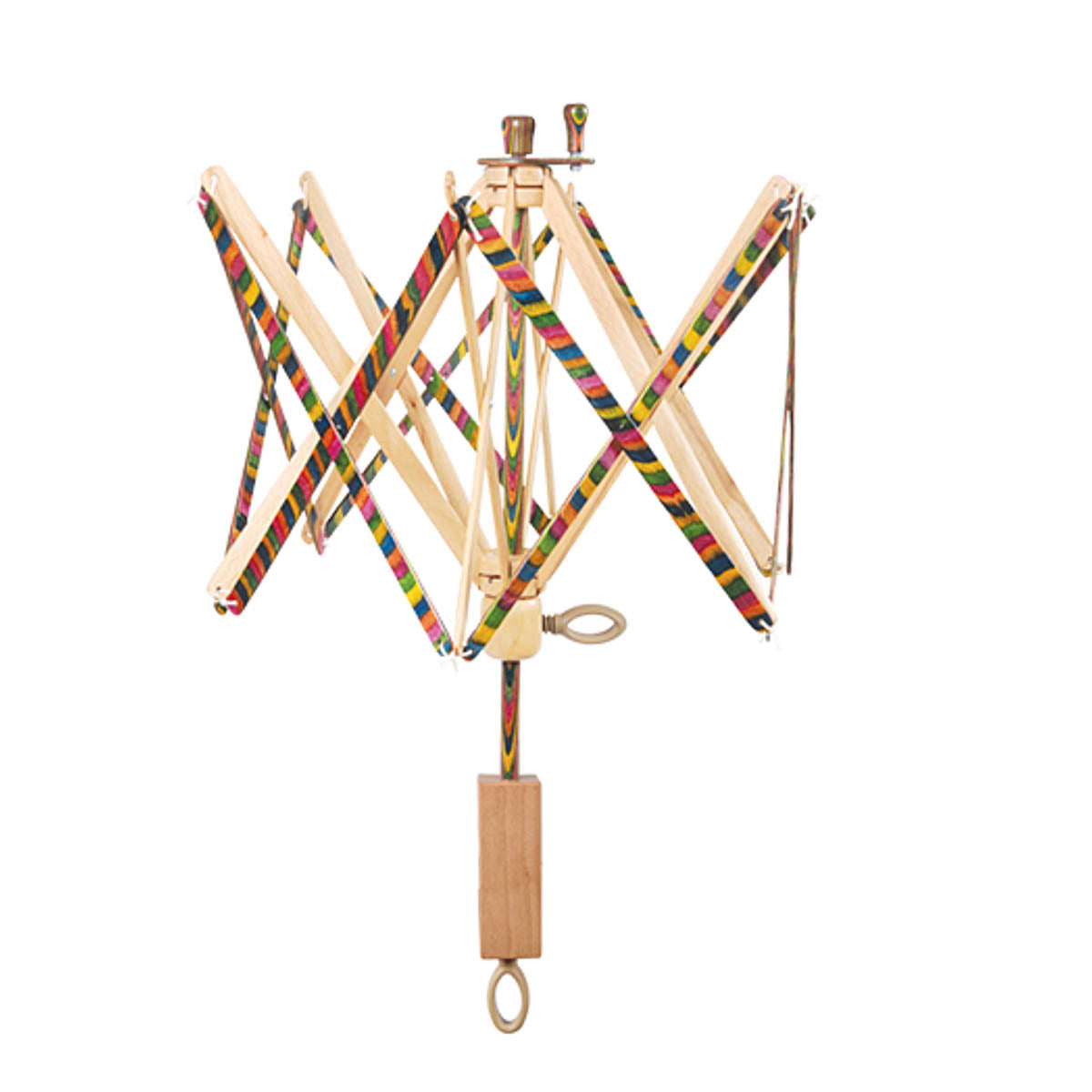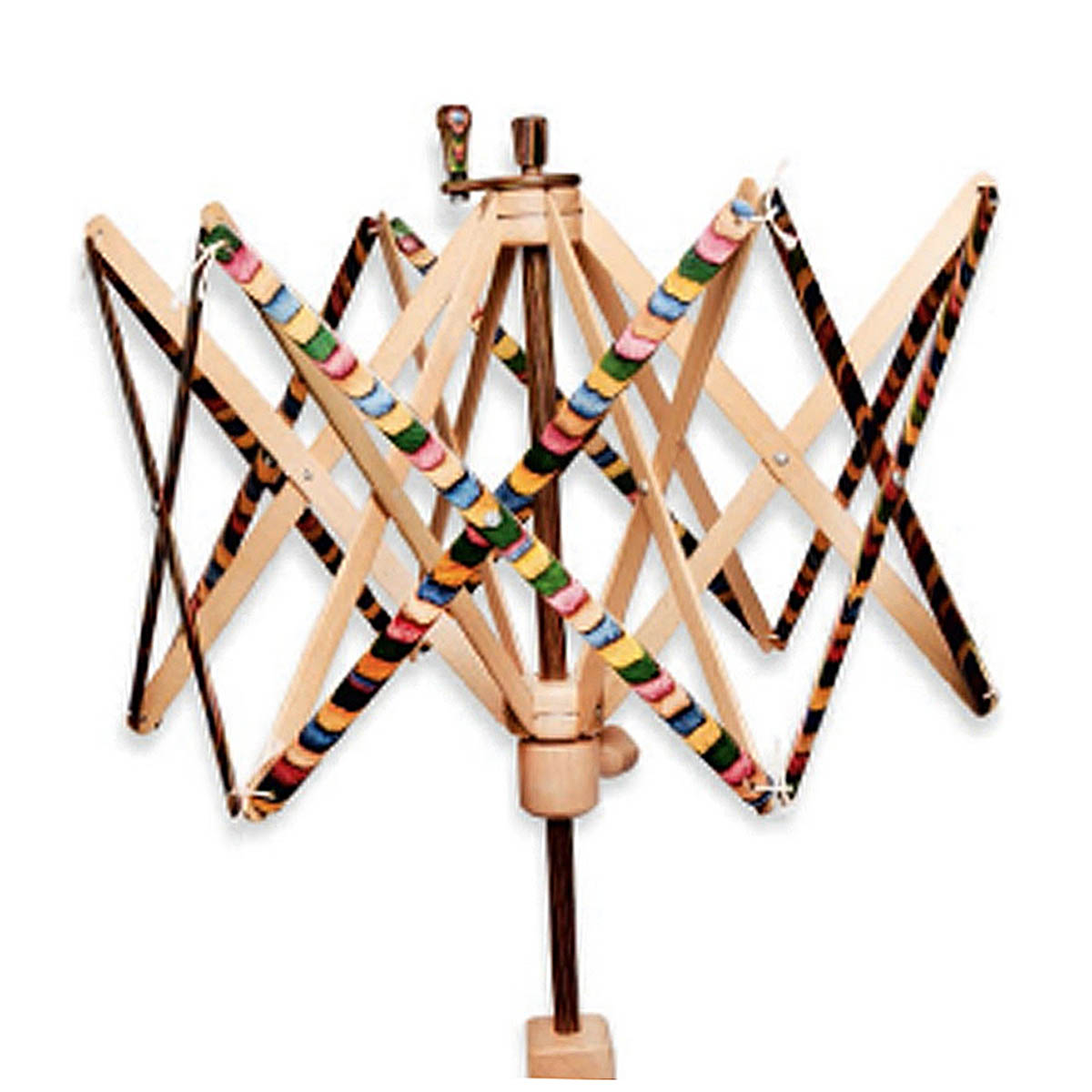 KNIT PRO
KnitPro SIGNATURE - SWIFT #35001
$169.70
Ask us a question
Knit Pro Signature Swift #35001
Beautifully crafted to perfection.  The best ever knitting winding accessory that smoothly and easily dispenses skeins up to 450g of fingering weight yarn at a time to your ball winder.
Made from natural and painted/stained laminated birch wood
Anti-skid rubber pads prevents the swift from sliding and scratching the table.
(For best results use with the KnitPro Ball Winder).
NB: Set photo below is for demonstration purposes only and shows the Signature Swift (not KnitPro Plain birch  timber), 2 Ball Dispensers and Ball Winder.  (Except for the Signature Swift listed, these items are not inclusive with this listing and can be purchased separately).  The Swift, Yarn Dispenser and Ball Winder are available in KnitPro Plain Natural Birch Timber.
DISCLAIMER: One of the drawbacks of buying fabric online is that in spite of every effort made by the Seller to provide a photo that represents the true colour of the item, it is impossible to do so, as the colour appears differently on every computer screen. Therefore the item you receive may be a slightly different shade to what appears on your computer screen.

SHIPPING: No online postage calculator is sophisticated enough to accurately compute postage based on both fabric value and weight. You are always welcome to ask us for a postage quote for multiple purchases. Should our automated postage calculator charge you more than 'actual' postage and you have already paid, we will immediately refund the overage.

INTERNATIONAL SHIPPING delivery times vary depending on the destination, Customs, and local postal service. Orders usually arrive in 10 -21 days although this can extend to 30+ days for Canadian deliveries. Peak period delivery times can delay delivery, especially in the lead up to Christmas.

CUSTOMS DUTY: If you are buying from outside of Australia, it is possible that you may be charged Customs Duty or other charges before your order will be released to you. We are in no way accountable for customs duty, handling fees or taxes that a Buyer may be required to pay upon delivery. We recommend that Buyers check with the appropriate authority in their country before they buy.

RETURNS/EXCHANGES: Whilst every effort is made to accurately process your order, mistakes can occasionally be made.

Exchanges or refunds are at the sole discretion of the Seller. ("I've changed my mind" is not an acceptable reason to return an item.) If you are unhappy with your purchase, please contact the Seller within 7 days of delivery for pre-approval before returning a purchase for exchange or refund. Unless the Seller has made a mistake and sent the wrong item(s) or the item differs significantly from the item description, the Buyer must pay for return postage. The Seller reserves the right to decide whether to exchange an item of refund the Buyer. If approved, a refund will be credited to the original purchaser's credit card or PayPal account (however they originally paid) and in most cases will not include the original postage/shipping cost. Please allow up to 10 working days after our receipt of the returned item for your refund to be completed.