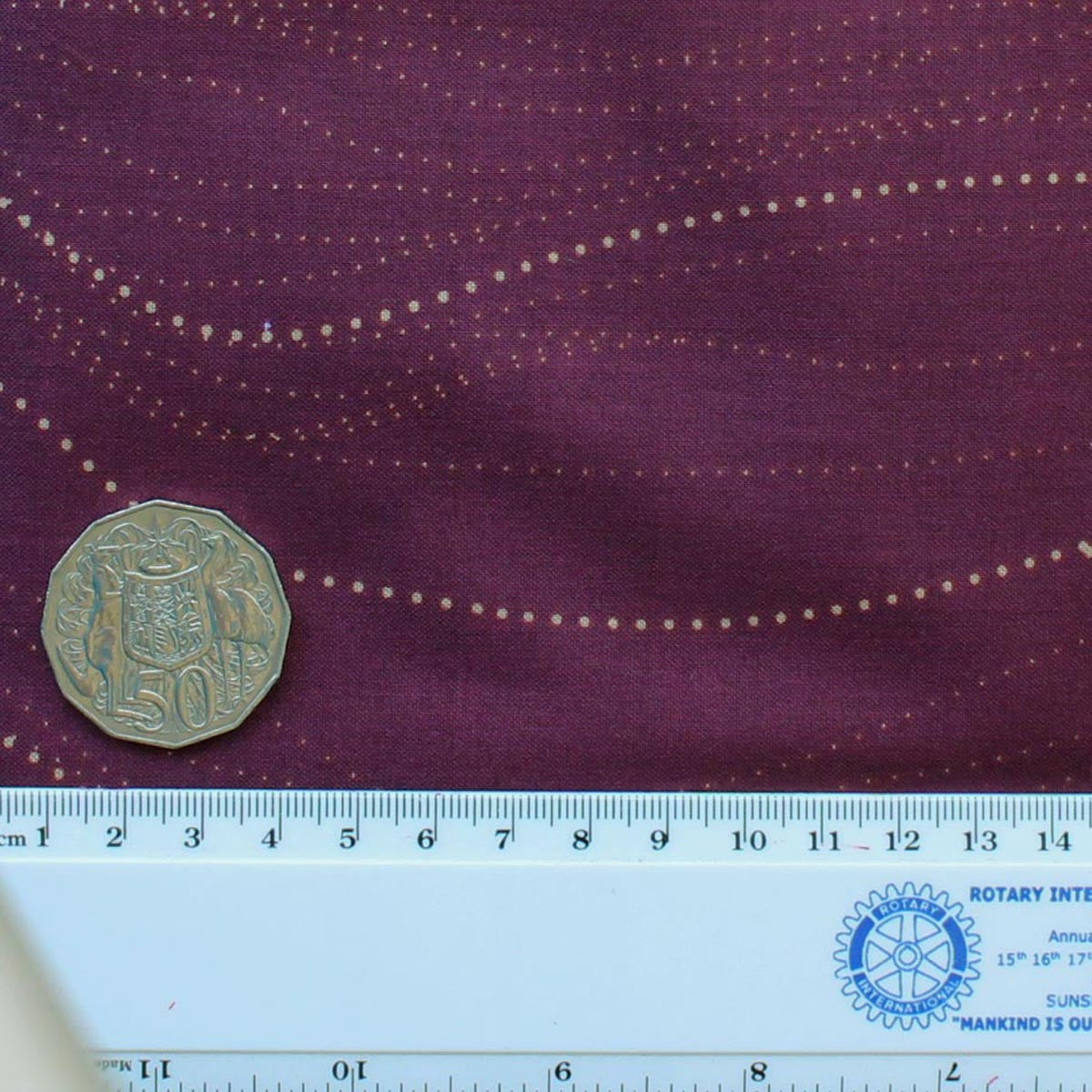 M & S Textiles Australia
SANDHILL BURGUNDY by Aboriginal Artist ANNA PITJARA
$5.00
Ask us a question
Premium quality 100% cotton quilting weight fabric suitable for quilting/patchwork, dressmaking/apparel, soft furnishings and craft.
Purchase continuous lengths by the 1/4m (25cmx112cm) unit:
1 unit  =    25cm x 112cm  (   9.84"x44")*
2 units =   50cm x 112cm  (   19.7"x44")
3 units =   75cm x 112cm  (   29.5"x44")
4 units = 100cm x 112cm  ( 39.37"x44")
5 units = 125cm x 112cm  (49.21"x 44")
6 units = 150cm x 112cm  ( 59.07"x44")
7 units = 175cm x 112cm  ( 68.91"x44")
8 units = 200cm x 112cm ( 78.75"x44") etc.
*If you would prefer a Fat Quarter (50cm x 56cm) instead of 25cm strip please leave a message as you go through the checkout.
**Purchases of more than 1 unit of the same fabric will be sent as a single piece.  
FABRIC: 100% Cotton (quilting, apparel, craft)

MANUFACTURER: M & S Textiles Australia
THE DESIGN:  Geographically, a dune is a hill of sand built by wind action that results in dunes of many different shapes and sizes.  The importance of dunes is recognised by some countries, namely United States, Australia, Canada and New Zealand.  These countries have developed significant programmes for protecting dunes by stabilising them.  In Central Australia there are many beautiful sand hills that provide a habitat for highly specialised forms of flora and fauna.
Well known artist Anna Pitjara's art beautifully represents sand hills on canvas with using acrylic paints.  By using white dots on a solid background Anna portrays the effect of wind moving over the sand hills in the desert landscape near her home town of Utopia in The Northern Territory.
PALETTE: BURGUNDY, ECRU
DISCLAIMER: One of the drawbacks of buying fabric online is that in spite of every effort made by the Seller to provide a photo that represents the true colour of the item, it is impossible to do so, as the colour appears differently on every computer screen. Therefore the item you receive may be a slightly different shade to what appears on your computer screen.

SHIPPING: No online postage calculator is sophisticated enough to accurately compute postage based on both fabric value and weight. You are always welcome to ask us for a postage quote for multiple purchases. Should our automated postage calculator charge you more than 'actual' postage and you have already paid, we will immediately refund the overage.

INTERNATIONAL SHIPPING delivery times vary depending on the destination, Customs, and local postal service. Orders usually arrive in 10 -21 days although this can extend to 30+ days for Canadian deliveries. Peak period delivery times can delay delivery, especially in the lead up to Christmas.

CUSTOMS DUTY: If you are buying from outside of Australia, it is possible that you may be charged Customs Duty or other charges before your order will be released to you. We are in no way accountable for customs duty, handling fees or taxes that a Buyer may be required to pay upon delivery. We recommend that Buyers check with the appropriate authority in their country before they buy.

RETURNS/EXCHANGES: Whilst every effort is made to accurately process your order, mistakes can occasionally be made.

Exchanges or refunds are at the sole discretion of the Seller. ("I've changed my mind" is not an acceptable reason to return an item.) If you are unhappy with your purchase, please contact the Seller within 7 days of delivery for pre-approval before returning a purchase for exchange or refund. Unless the Seller has made a mistake and sent the wrong item(s) or the item differs significantly from the item description, the Buyer must pay for return postage. The Seller reserves the right to decide whether to exchange an item of refund the Buyer. If approved, a refund will be credited to the original purchaser's credit card or PayPal account (however they originally paid) and in most cases will not include the original postage/shipping cost. Please allow up to 10 working days after our receipt of the returned item for your refund to be completed.