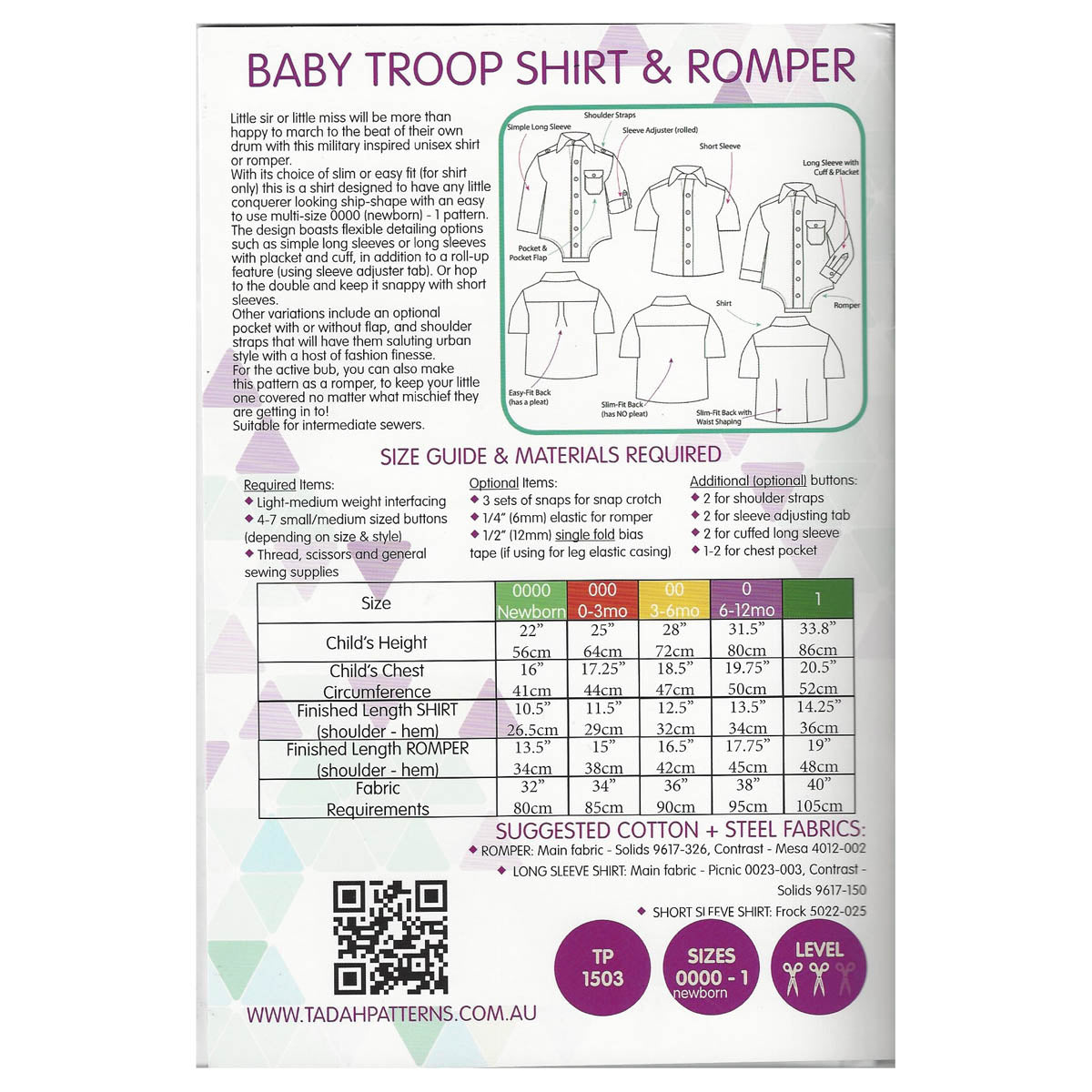 Tadah Patterns
TADAH - BABY TROOP SHIRT & ROMPER -Sizes: 0000 (newborn) - 1
$14.00
Ask us a question
PAPER PATTERN & INSTRUCTION BOOKLET:
BABY TROOP SHIRT & ROMPER - Sizes: 0000 (newborn) - 1
Little sir or little miss will be more than happy to march to the beat of their own drum with this military inspired unisex shirt or romper.
With its choice of slim or easy fit (for shirt only) this is a shirt designed to have any little conquerer looking ship-shape with an easy to use multi-size 0000 (newborn) - 1 pattern.
The design boasts flexible detailing options such as simple long sleeves or long sleeves with placket and cuff, in addition to a roll-up feature (using sleeve adjuster tab). Or hop to the double and keep it snappy with short sleeves.
Other variations include an optional pocket with or without flap, and shoulder straps that will have them saluting urban style with a host of fashion finesse.
For the active bub, you can also make this pattern as a romper, to keep your little one covered no matter what mischief they are getting in to!
With step-by-step instructions, this is a pattern that can be recreated endlessly for any intermediate sewer, and is a must-have kit addition for the suave little playground soldier in your life.
Pair it with pants, a skirt, leggings or shorts, it's guaranteed to have them feeling "at-ease".
Intermediate sewers
2 sleeve options:  short or long
2 piece straight collar
Single cut cuff
Optional shoulder straps and sleeve straps
Can be made as a shirt or romper
Instructions t finish the romper with or without snaps in the crotch
Colour coded pattern pieces
Over 80 clear colour diagrams to help you construct the pattern
And Tadah is different.  It offers the following:
Full colour comprehensive tutorials
Tips and tricks throughout
Multi-size and many options in each pattern
Colour coded pattern pieces
AUTHOR/DESIGNER: Tadah Patterns
Tadah® Patterns (formerly Fresh Patterns) was born out of love of sewing and determination to create clothing that is practical and comfortable for little ones to wear, yet so beautiful that they will turn heads all over town.
Tadah® Patterns uses timeless styles and adds a fresh twist to bring you modern and funky boutique children's sewing patterns which are not only easy and fun to sew, but give you top quality professional results.
The team atTadah Patterns are passionate about sewing, and excited to share it with the world! It doesn't matter if you are brand new to sewing or a seasoned pro - everyone can find a pattern to enjoy at Tadah Patterns.
SKILL LEVEL: Beginner