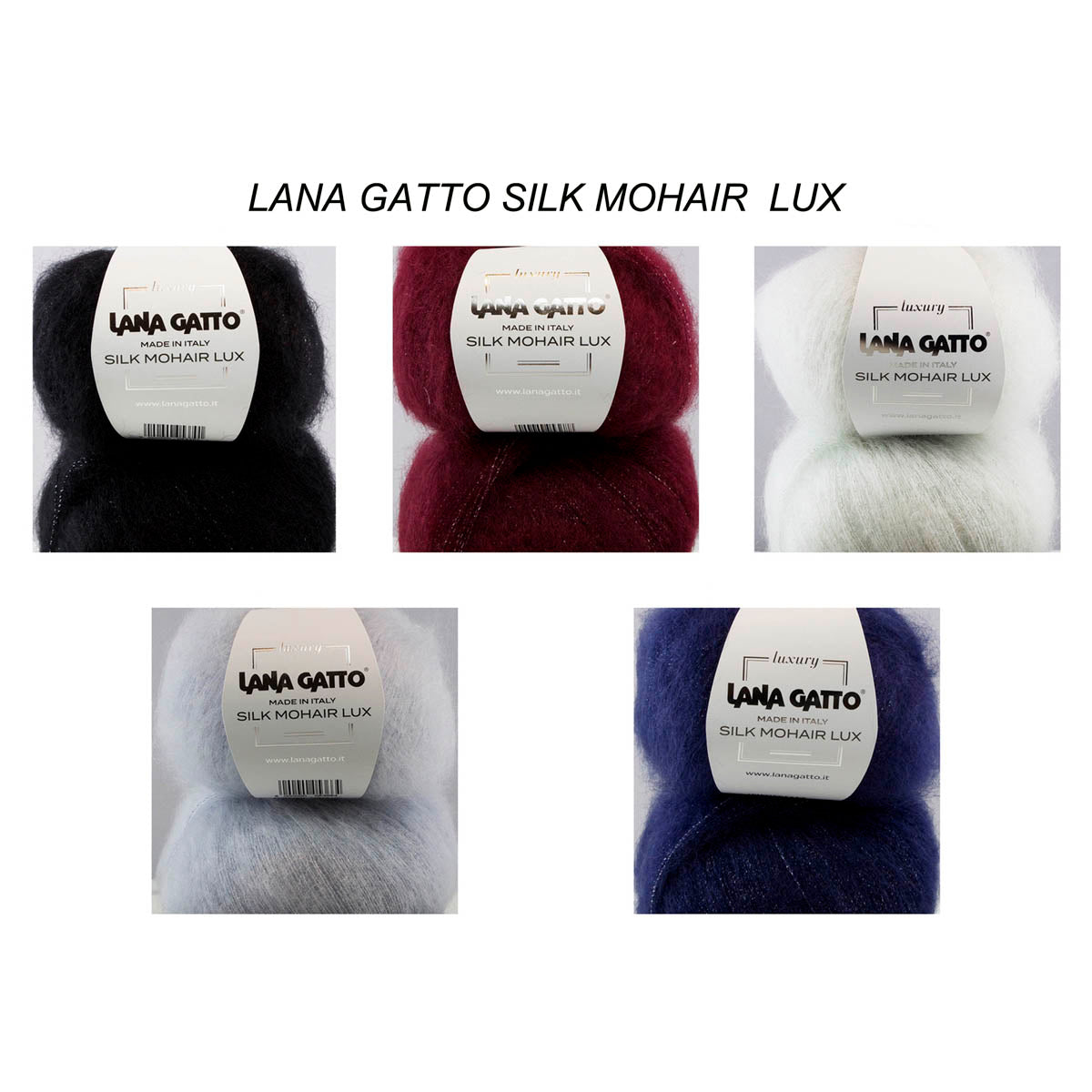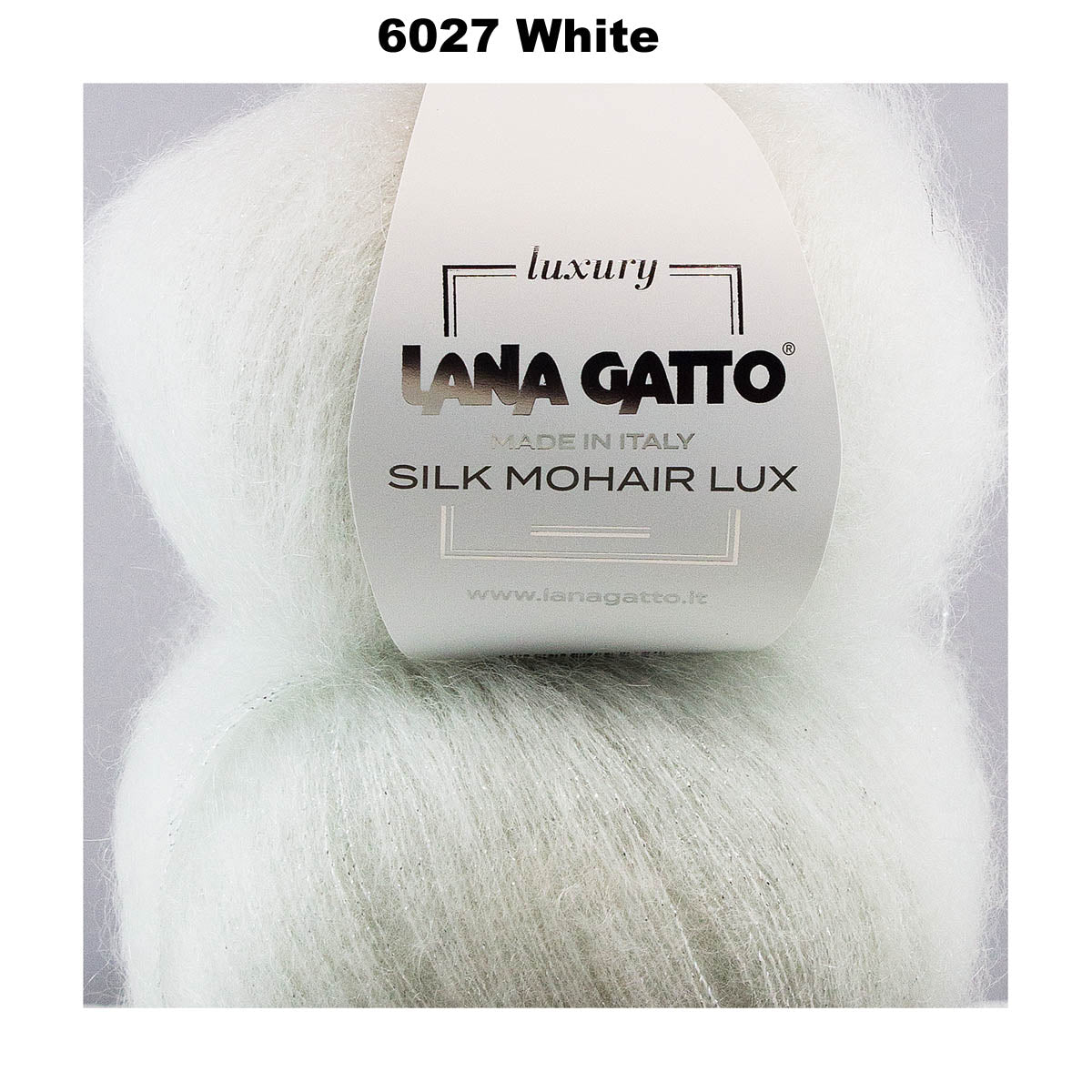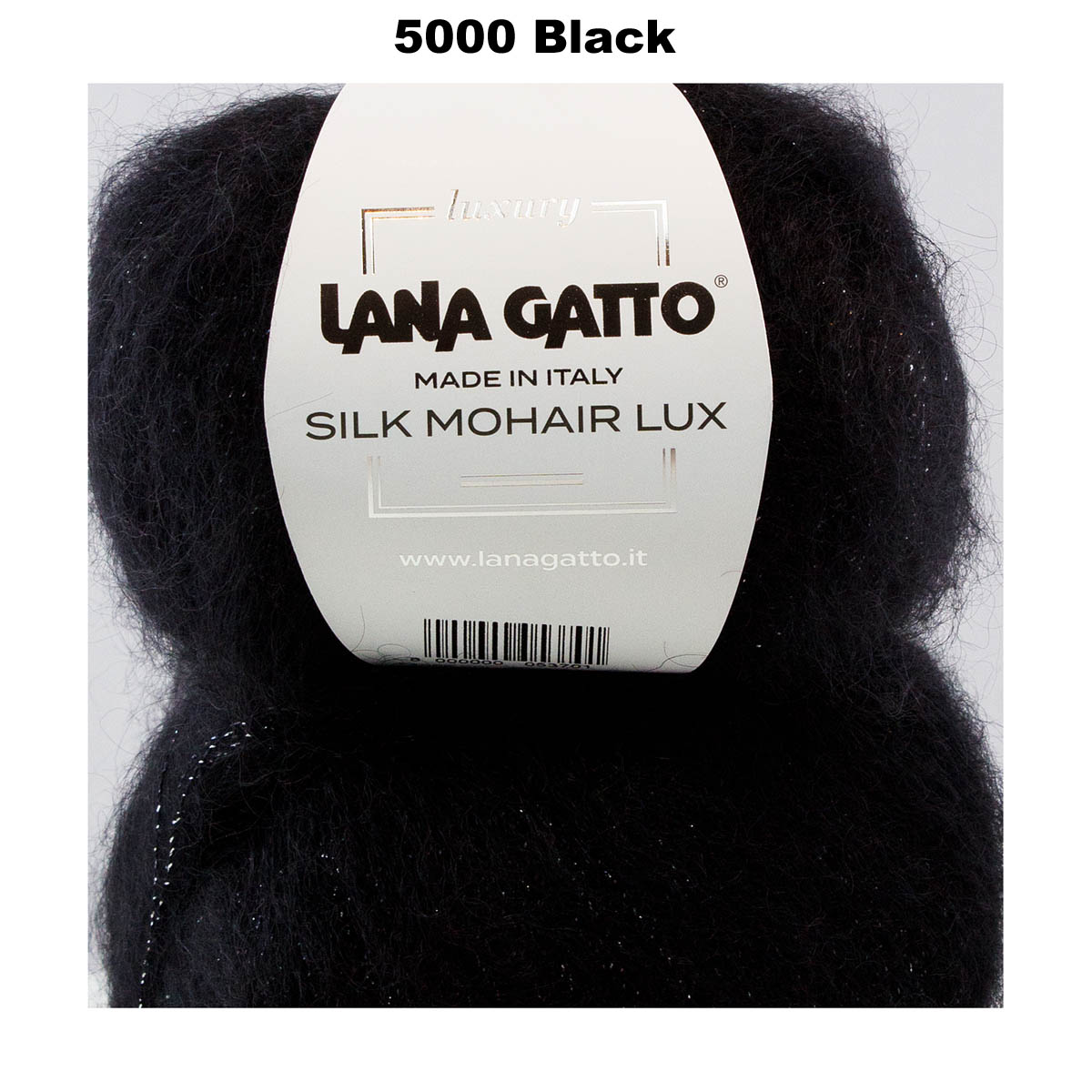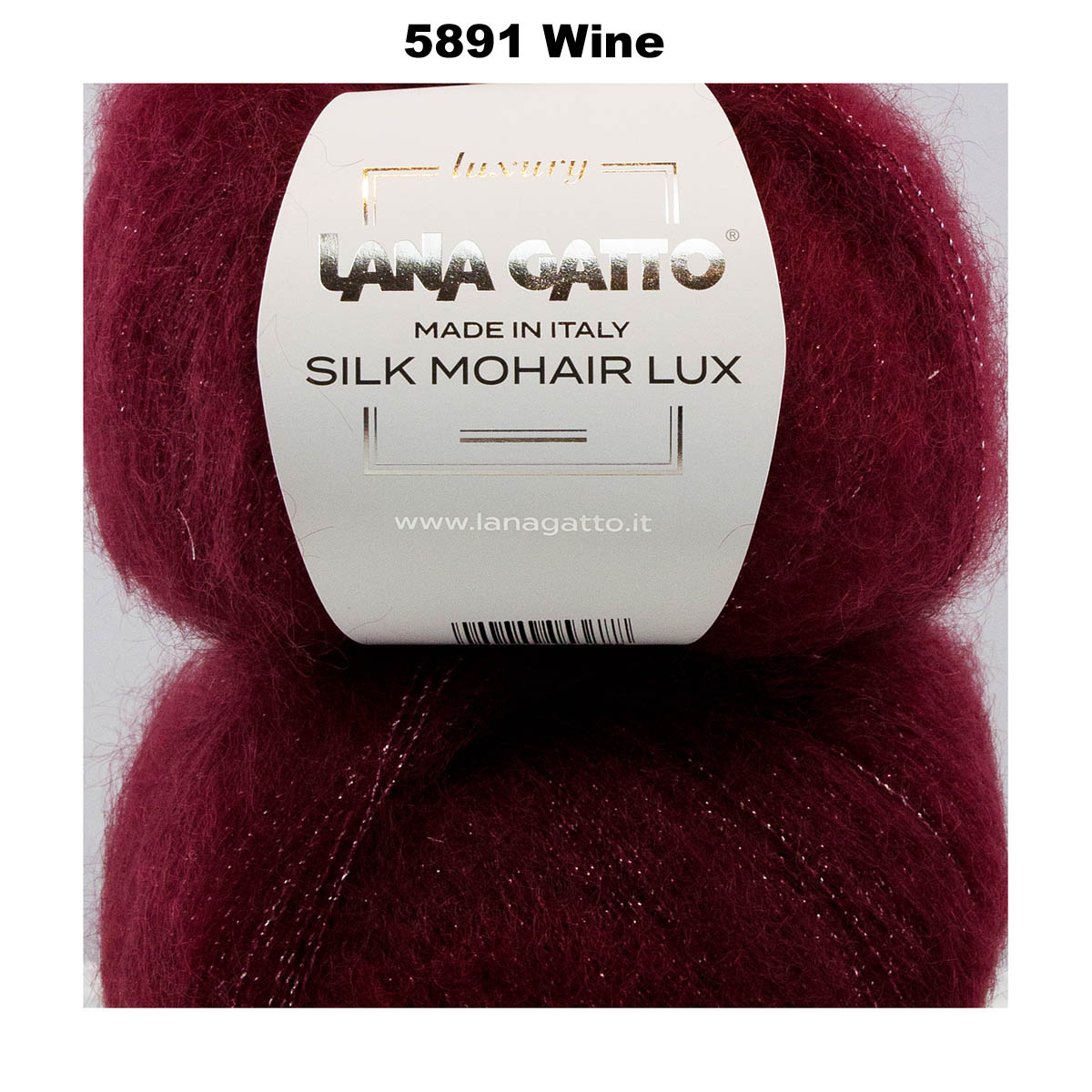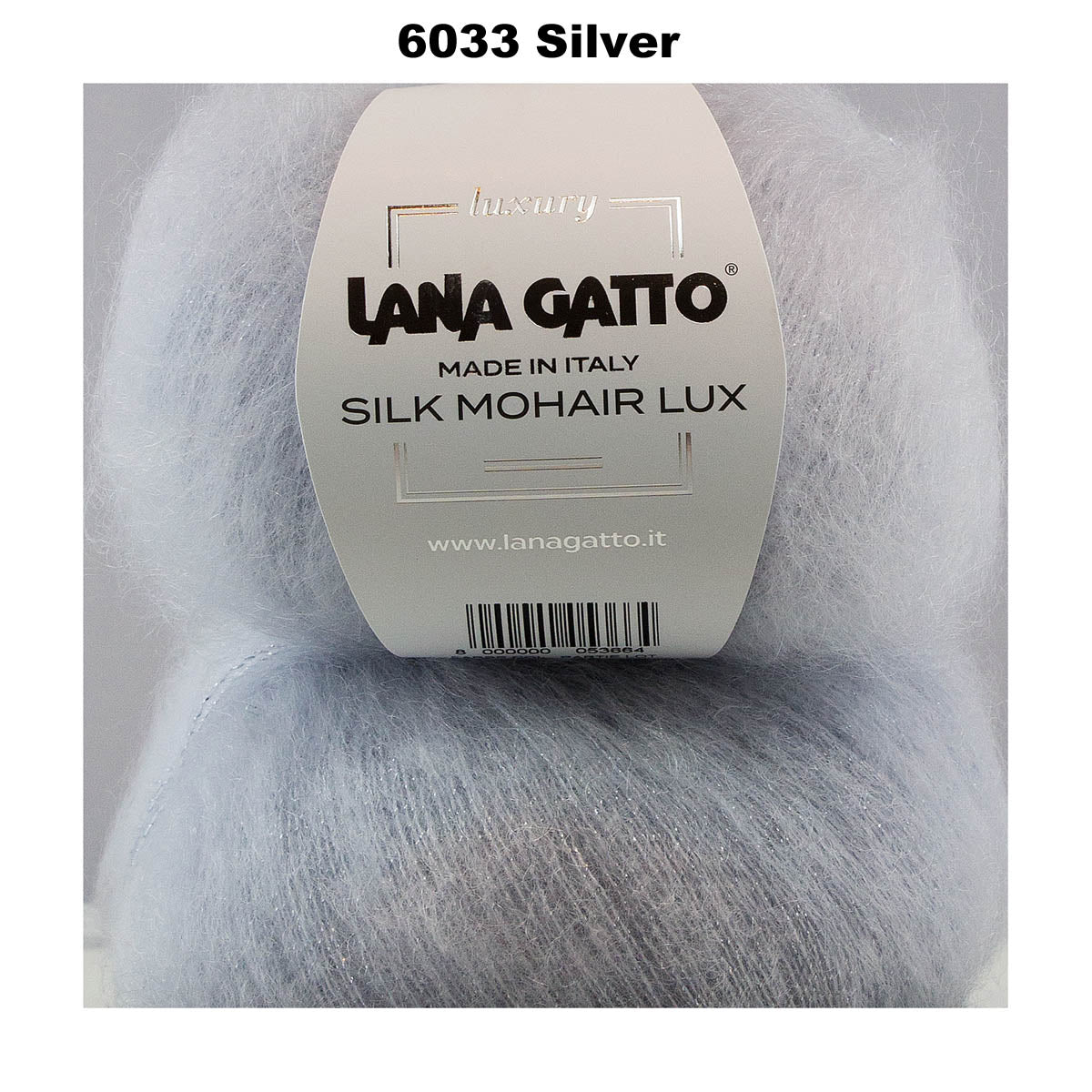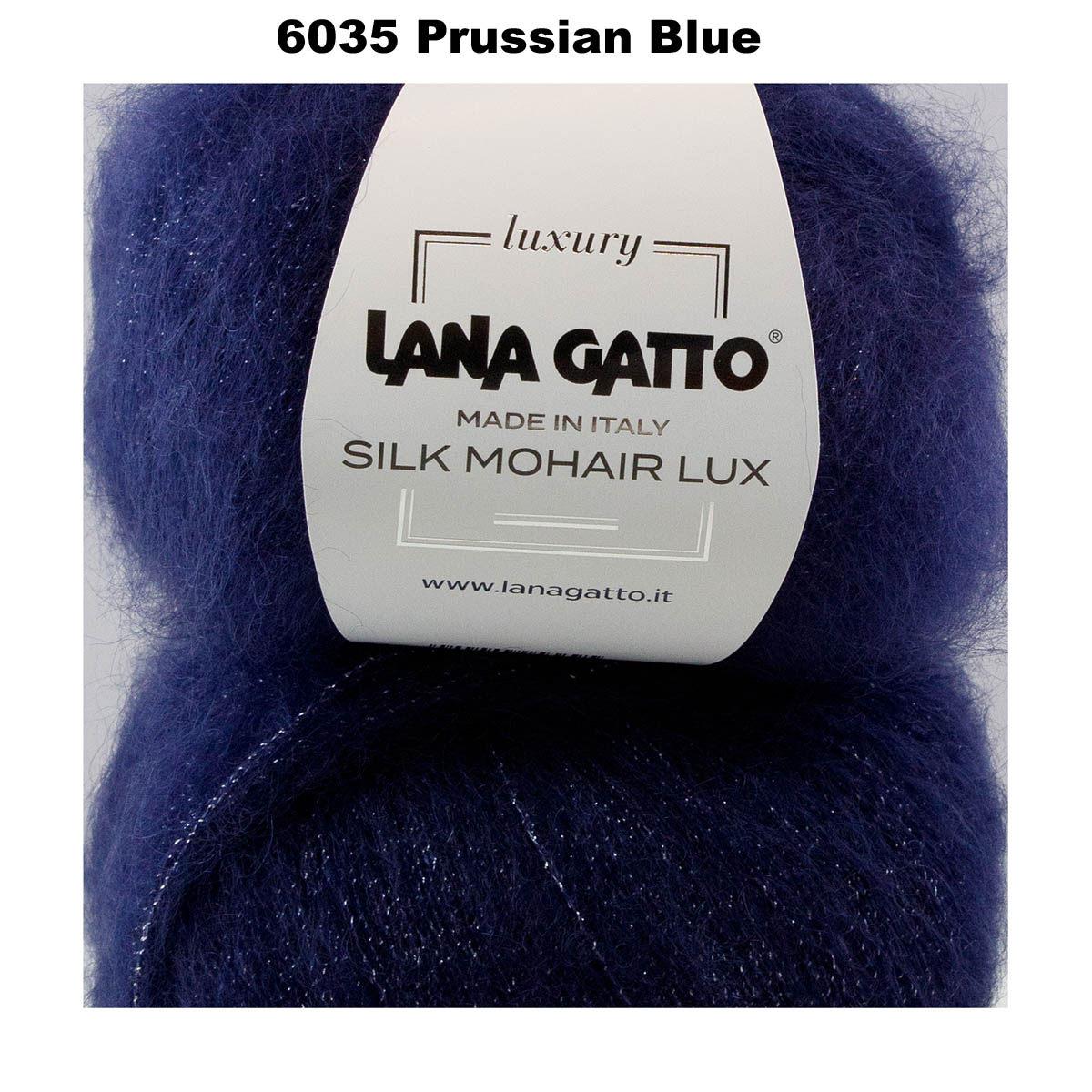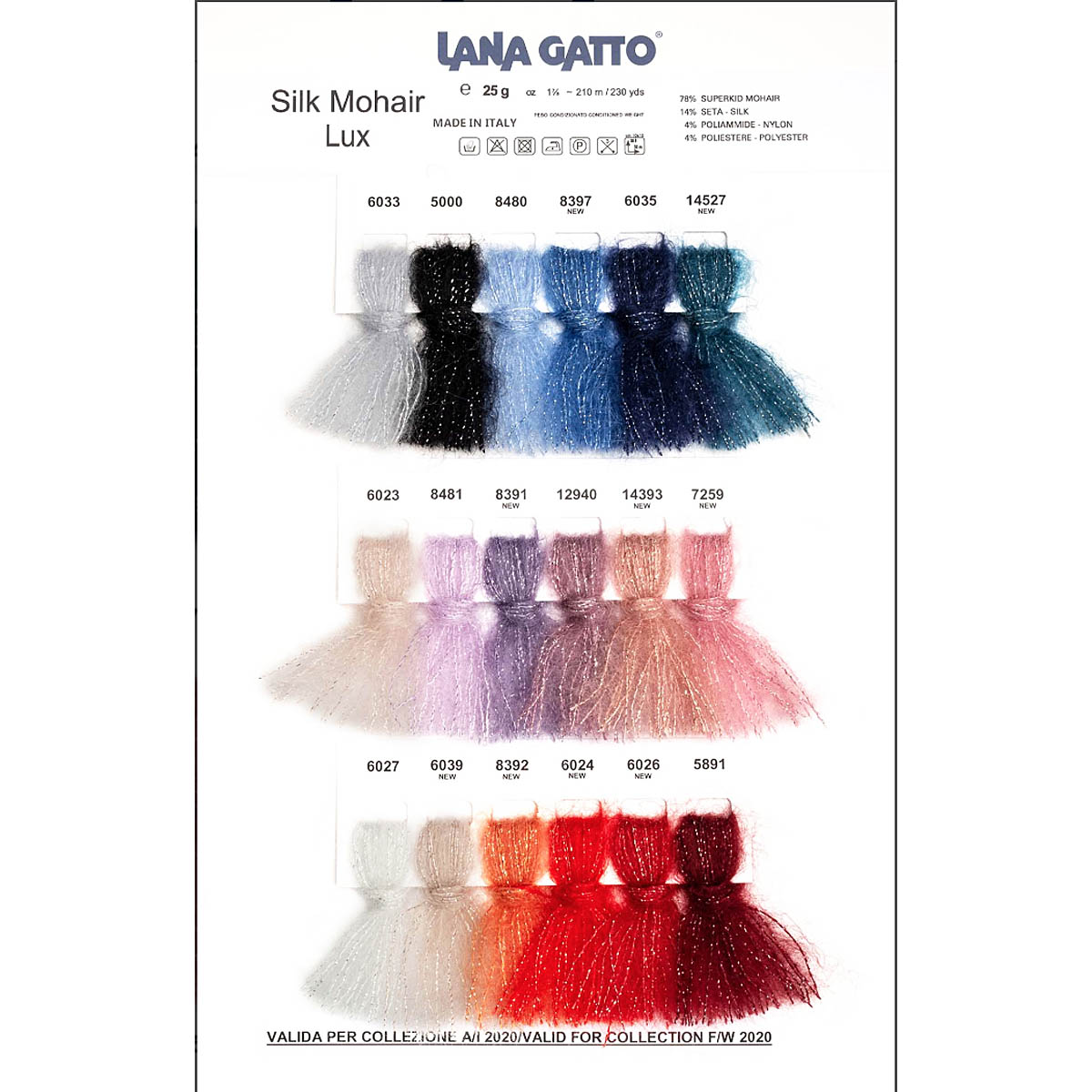 Lana Gatto
LANA GATTO - SILK MOHAIR LUX (Sparkly Lurex) - 78% SuperKid Mohair, 14% Silk, 4% Nylon, 4% Polyester - 2ply/Fingering - Ball 25g 212m/231yds CHOOSE COLOUR
$9.00
Ask us a question
SELECT COLOUR FROM LIST:
ORIGIN: Italy

QUANTITY: This listing is for ONE (1) ball/skein of Yarn only.

TO BUY MORE THAN ONE: To purchase more than one ball/skein, select the quantity you require from the dropdown box.

TO ORDER MORE: If you require more than we have listed please ask as we may have more stock on hand, or may be able to order some in for you.

ABOUT SILK MOHAIR:
78% SuperKid Mohair, 14% Silk, 4% Nylon, 4% Polyester 

Hand wash

This luxurious blend with just enough silvery lurex sparkle to give classic elegance to a lacey shawl, cardi, or similar garment for a special evening event.
ADDITIONAL INFORMATION: 
BRAND: Lana Gatto
YARN CATEGORY: Mohair & Blends

COMPOSITION: 78% SuperKid Mohair, 14% Silk, 4% Nylon, 4% Polyester (sparkly silvery lurex)

BALL/SKEIN WEIGHT: 50g / 210m (229yds)

PLY: 2-ply / Fingering

GAUGE:  34 st x 38 rows
RECOMMENDED NEEDLE SIZE: 3mm (3 US)

WASHING INSTRUCTIONS: Hand Wash.  Dry Flat
IMPORTANT - PLEASE READ
DISCLAIMER REGARDING COLOUR: One of the drawbacks of shopping online is that every monitor or screen shows colour differently, and therefore the colour of the yarn that you see on your screen may not be a true representation of the actual colour. Therefore, the yarn you receive may be a slightly different colour/shade from what you expected.

If you have any questions about this yarn, please contact us before you buy.

CUSTOMS DUTY: If you are buying from outside of Australia, it is possible that you may be charged Customs Duty or other similar charges before your order will be released to you. We are in no way accountable for customs duty, handling fees or taxes that a Buyer may be required to pay upon delivery. We recommend that Buyers check with the appropriate authority in their country before they buy.

POSTAGE/SHIPPING: Postage/Shipping charges are based on item $ value, weight, bulk and destination. The eBay shipping calculator isn't sophisticated enough to accurately compute postage and may overcharge you. If this happens, please rest assured that we refund any shipping overage.
NB: Should you be purchasing multiple items, it is best if you ask for a combined invoice with adjusted postage BEFORE you pay.

INTERNATIONAL CUSTOMERS: Shipping is set so that tracking kicks in at a certain value+weight point which can result in overcharging for orders of more than 4 items. So is best to ask for a postage/shipping quote before you buy. 

DELIVERY TO MULTIPLE DWELLINGS/SHOPPING CENTRES/OFFICE BUILDINGS:
NB: Delivery to a multiple dwelling/office/shopping complex must have tracking, so please do not select Regular Mail. If your delivery is to one of the above types of address and you have chosen Regular Mail instead of Prepaid Satchel, shipping with tracking, or Express Post, you may have voided your right to make a claim against the Seller for loss of, or damage to your order in transit.
Image Copyright Notice: Photos contained on this Facebook page, Instagram, and under the tuppysaussiefabrics.com domain, the eBay.com domain and the Etsy.com domain, are the property of H. G. Christensen and are protected by Australian and International copyright laws. All copyright, trademark and other intellectual property rights in this site and any other site are the property of H. G. Christensen. No permission, either expressed or implied, is granted for the electronic transmission, storage, retrieval or printing of the photographs that are the property of H. G. Christensen, other than that which is related to normal 'caching' practices of web browsers and activities such as downloading solely for your personal enjoyment. No parties or individuals visiting or viewing images that are the property of H. G. Christensen, may otherwise copy, modify, publish, transmit or distribute the contents of the photographs found herein without the express written permission of the copyright holder. The act of infringing on a copyright is a serious offence and is punishable by fines and/or imprisonment.