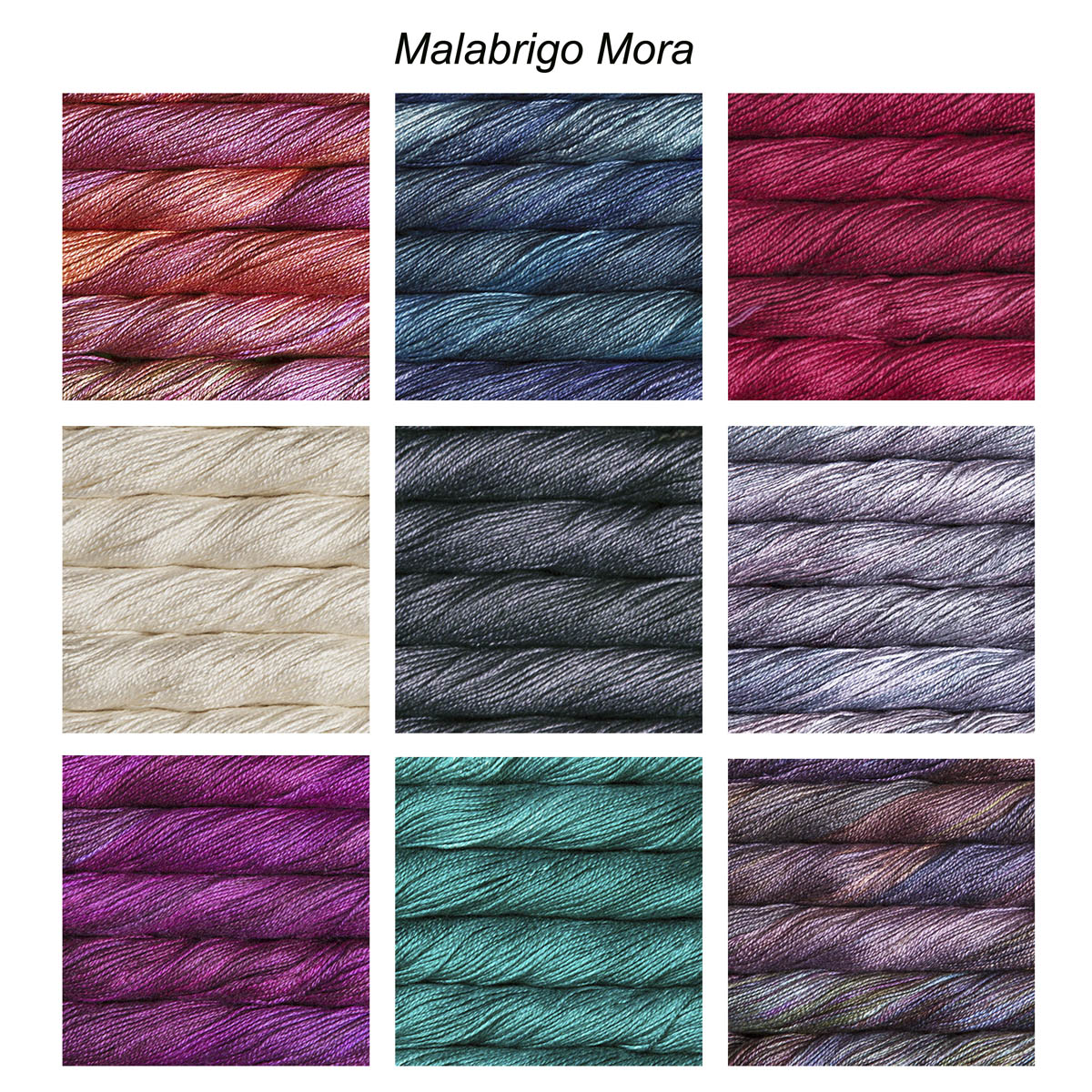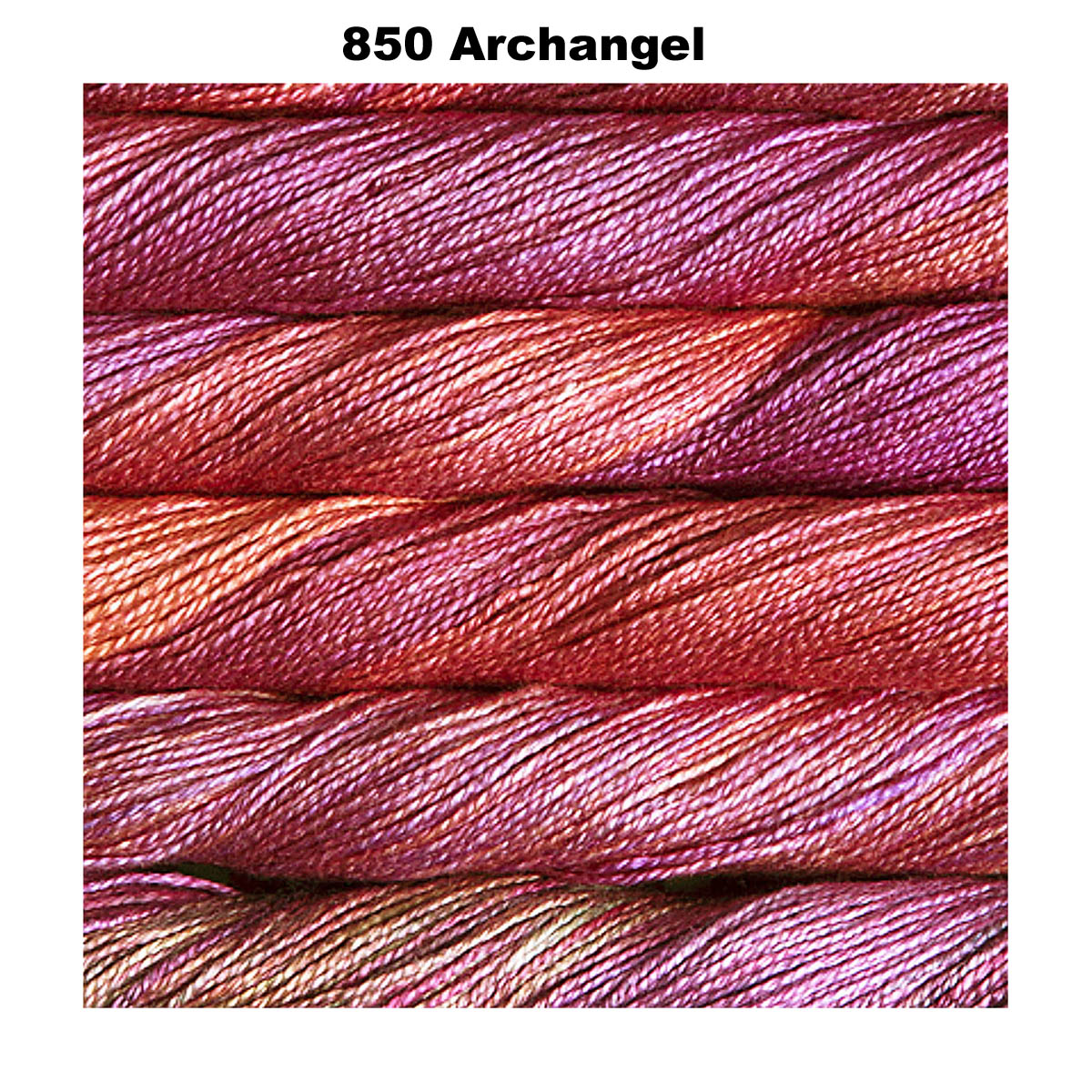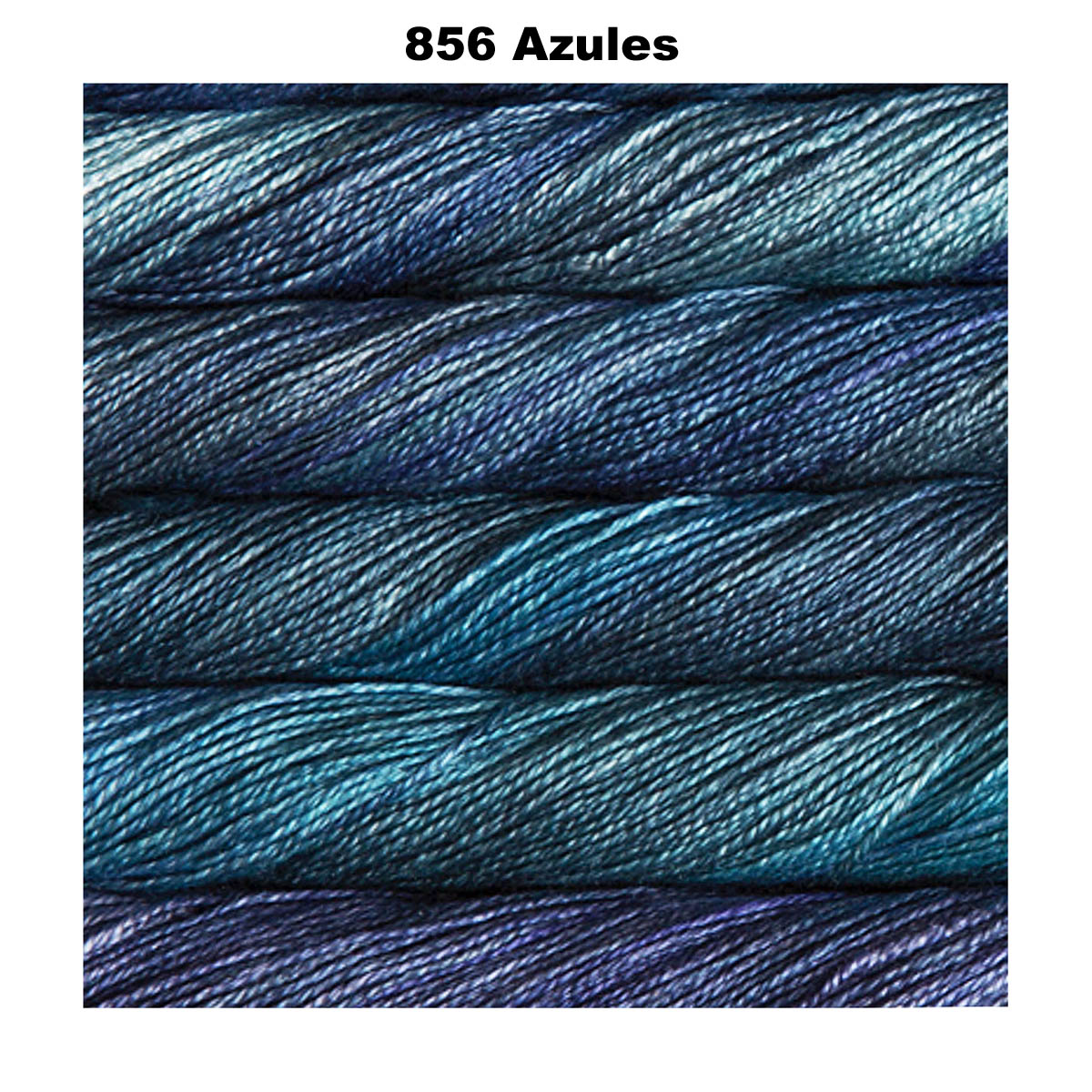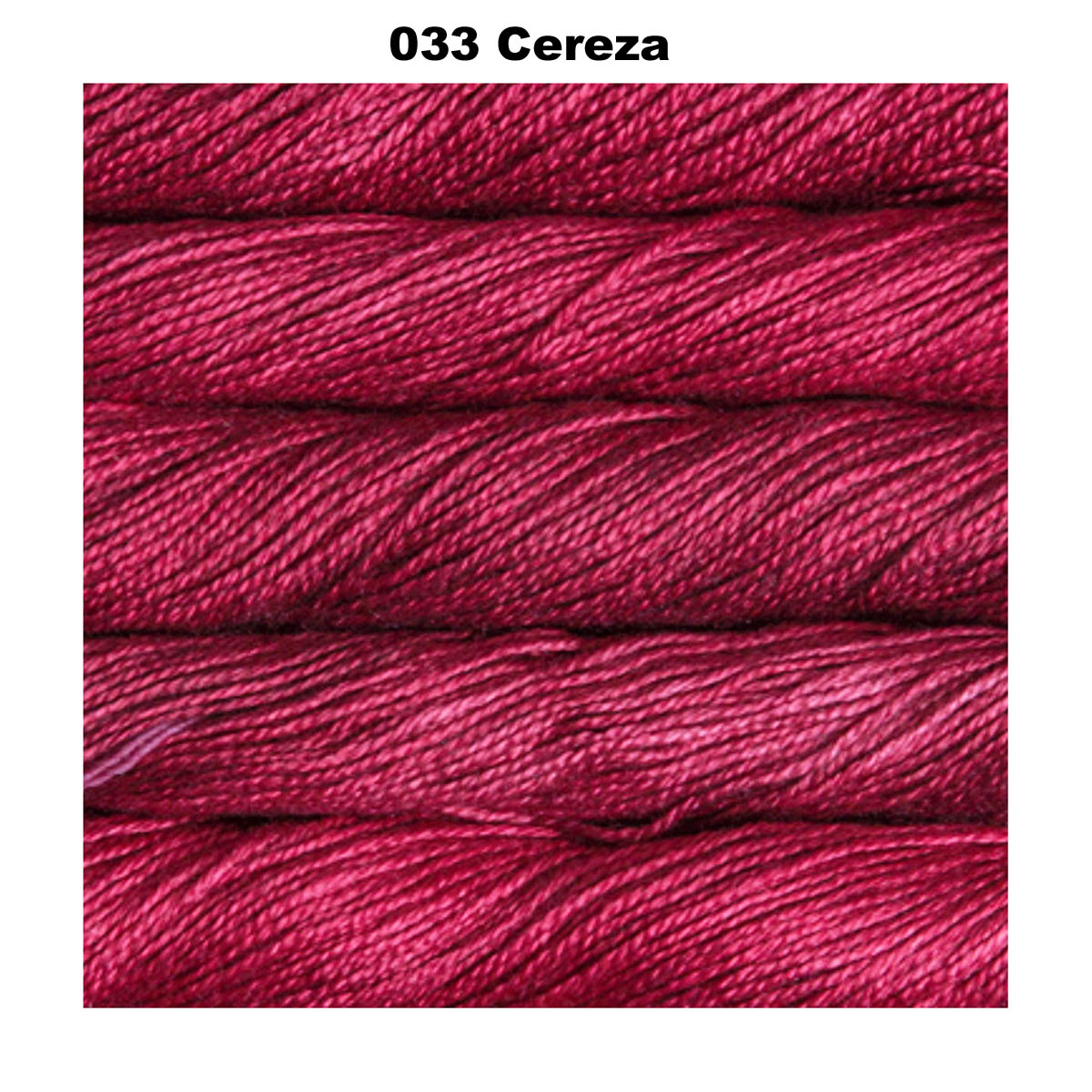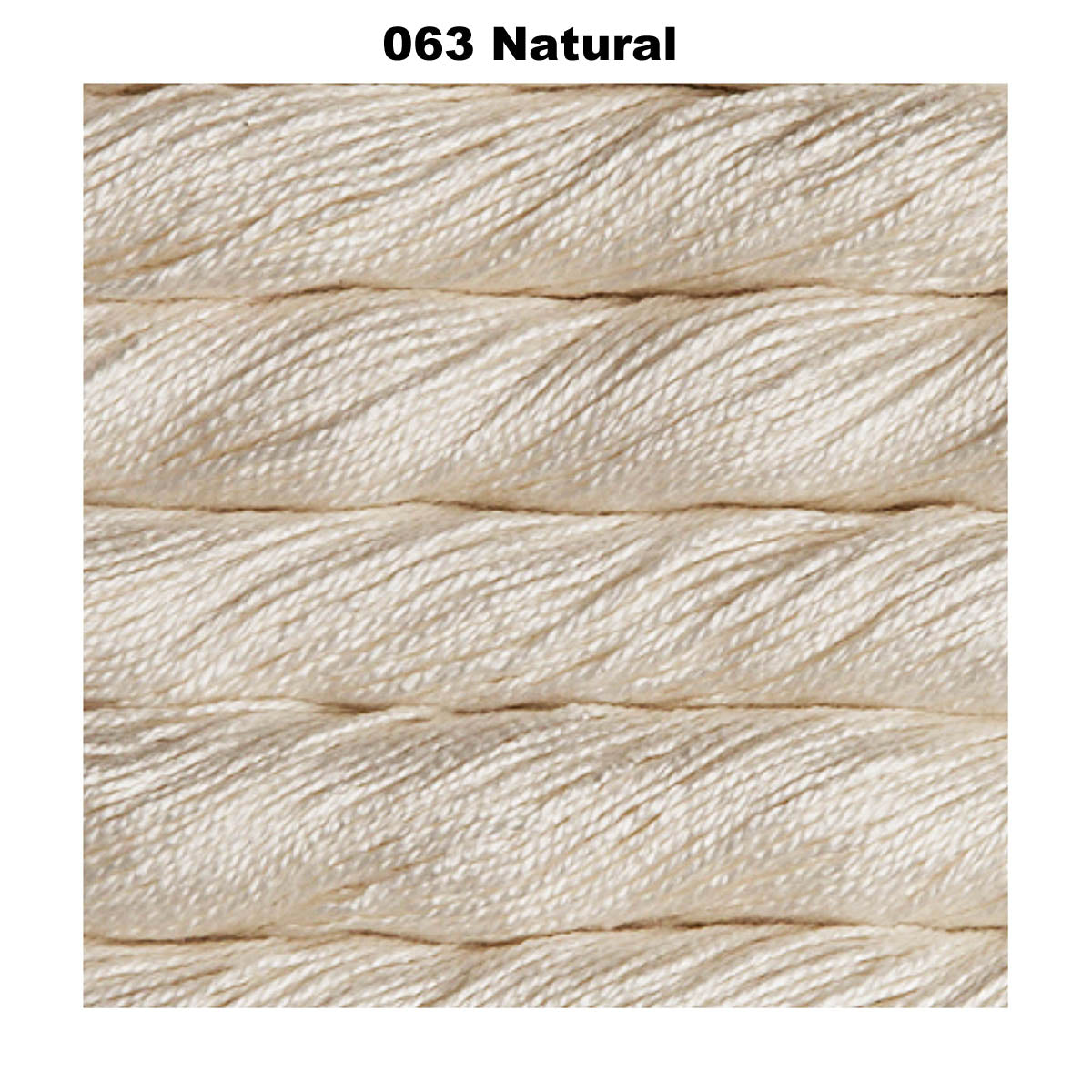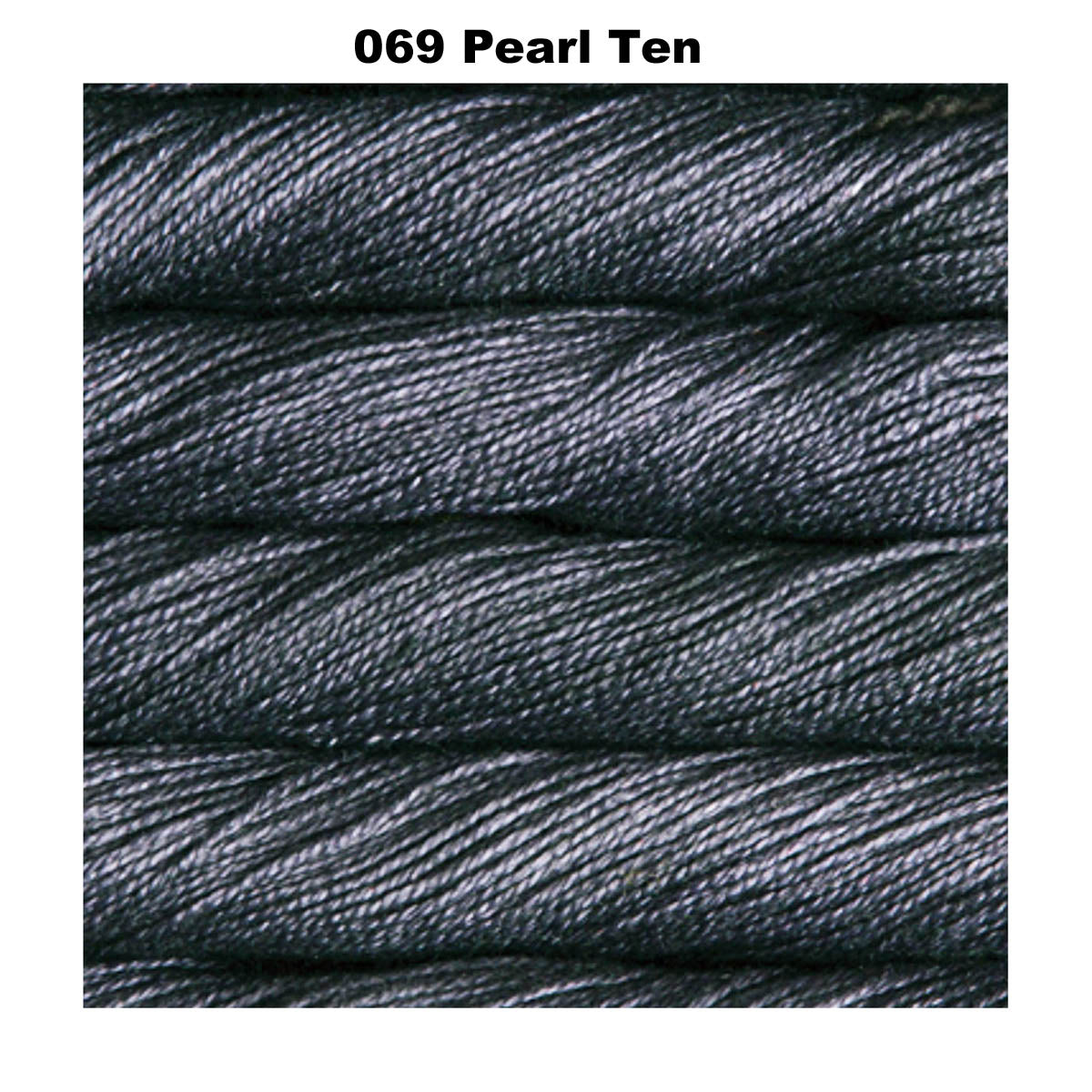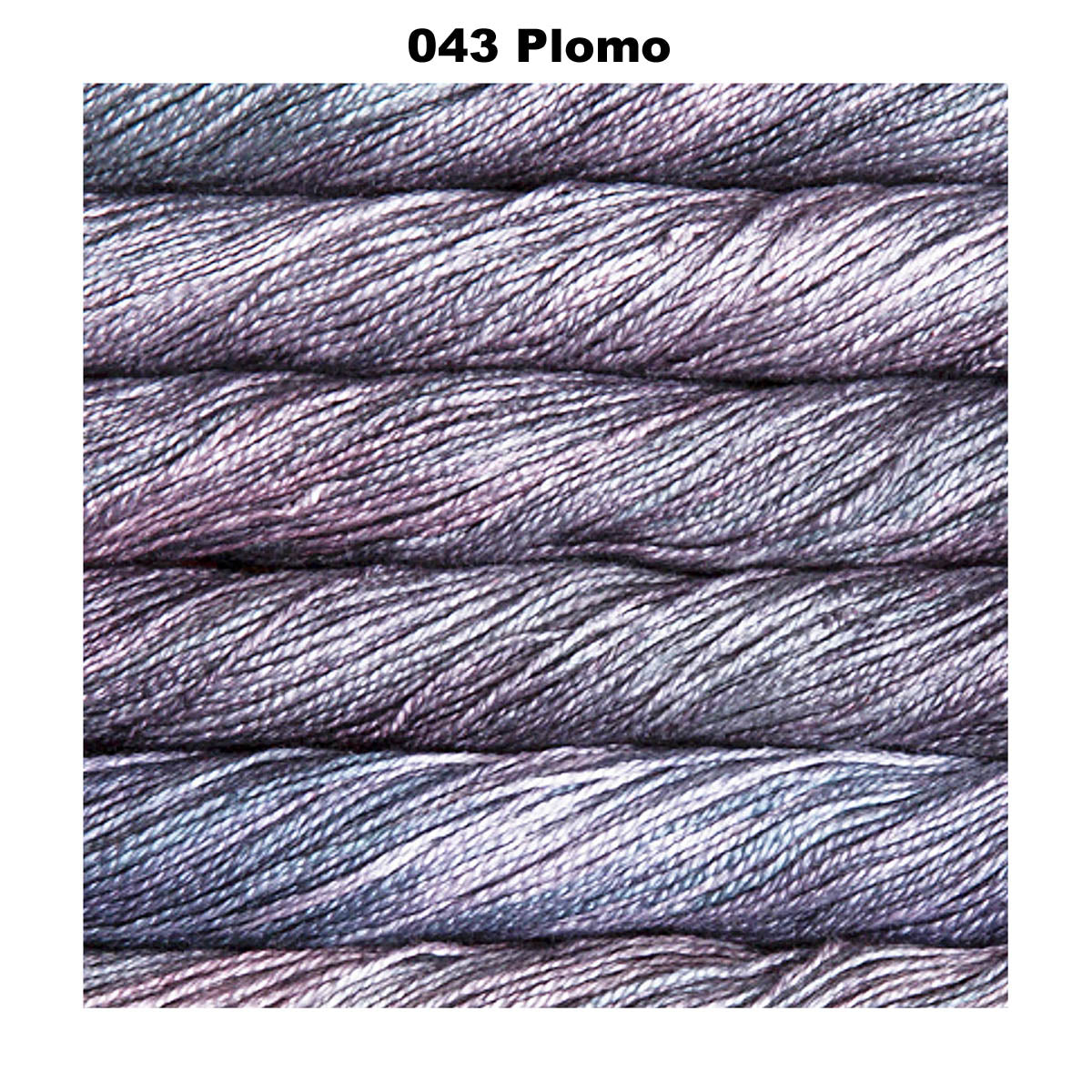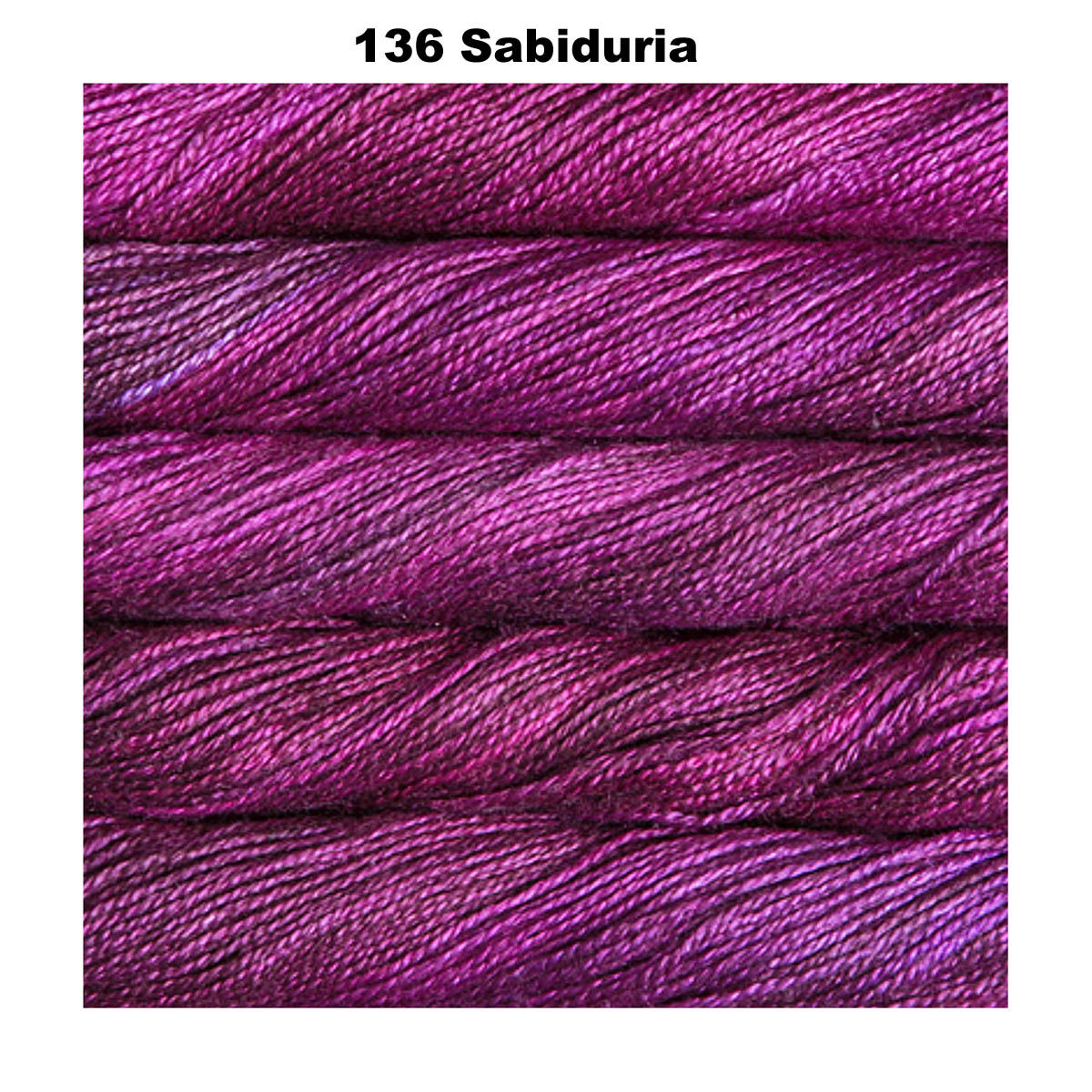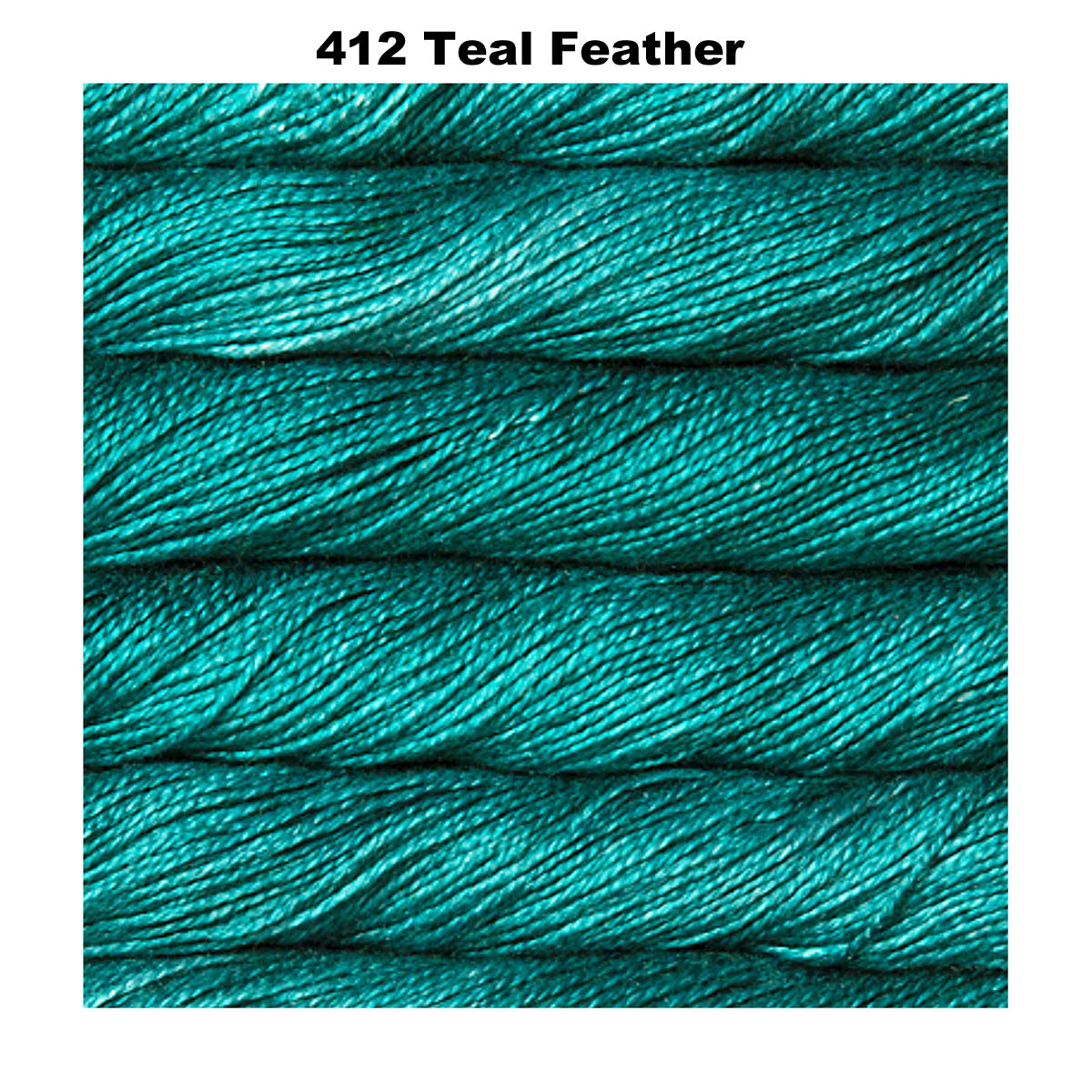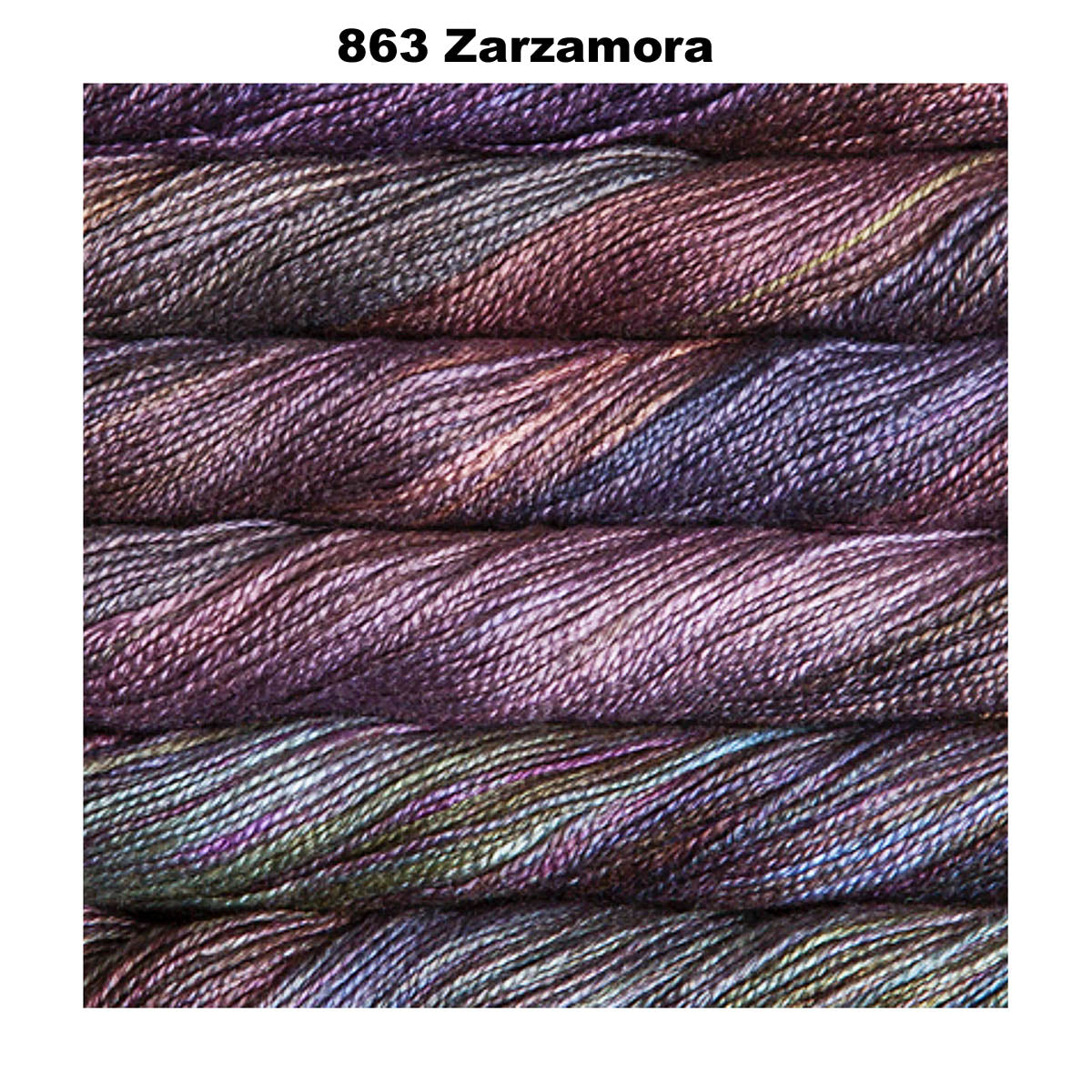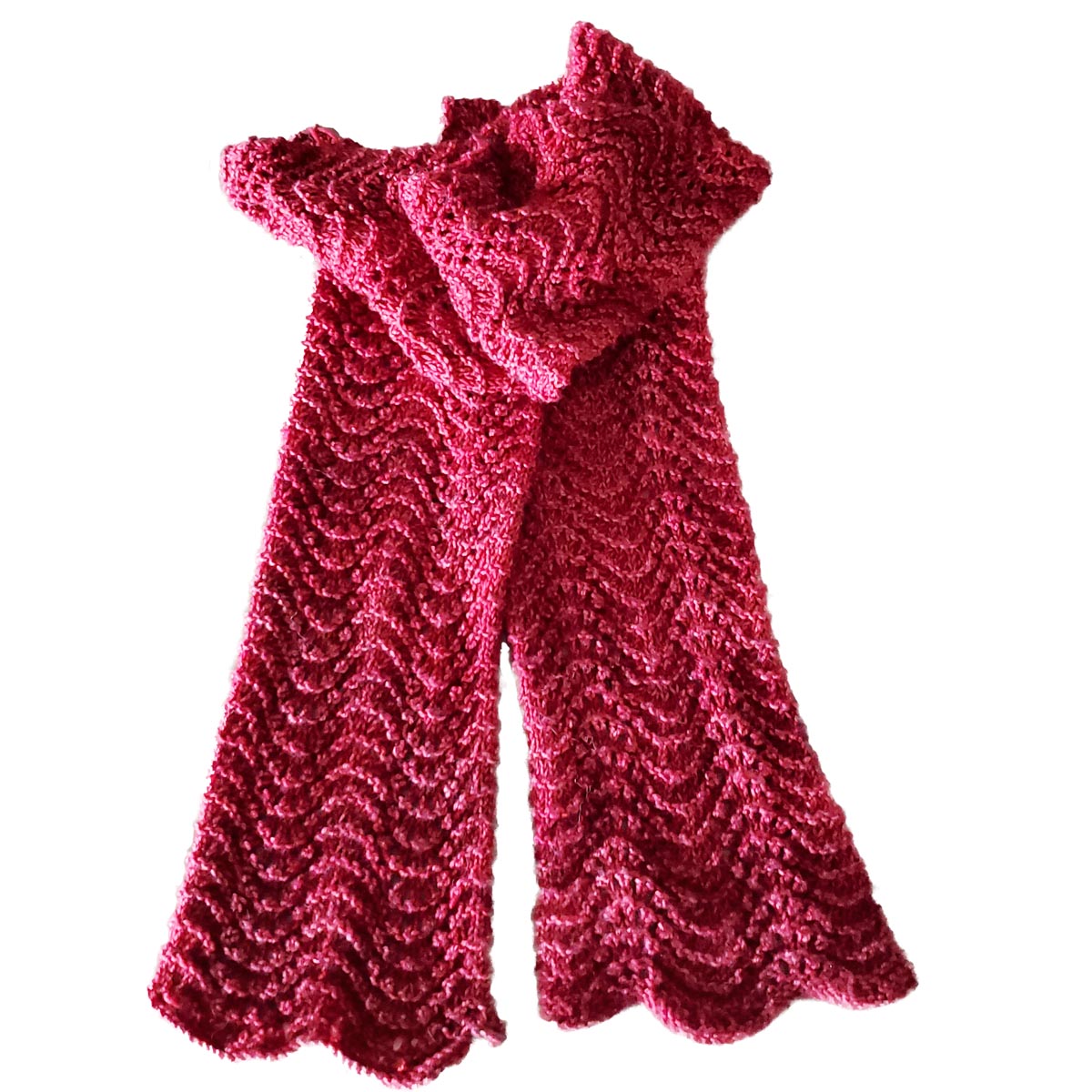 Malabrigo
MORA - 100% Mulberry Silk 50g/205m(225 yds)/Fingering (2ply)CHOOSE COLOUR
$21.00
Ask us a question
QUANTITY: This listing is for 1 x ball/skein/hank of Yarn only
COLOUR: CHOOSE FROM DROPDOWN LIST
TO BUY MORE THAN ONE: To purchase more, select the quantity you require from the dropdown box.

TO ORDER MORE: If you require more than we have listed, please ask as we may have more stock on hand, or it may be possible to order more from our supplier.

ABOUT MALABRIGO MORA YARN:
Pure Mulberry silk, the ultimate in luxury! 
This four-ply fingering weight yarn is as strong as it is soft. 
The pure silk takes dye with an unparalleled richness, for colors that will blow your socks off! 
Great for: Shawls, scarves, fine garments, and little luxuries
Be sure to get enough yarn to complete your project since each bag is a different dye lot, and skeins may vary from bag to bag. In the tagged (*) colors, the skeins may vary one from the other even within the same bag. To ensure random color distribution, work from two balls of yarn at once, alternating a few rows from each ball.
 YARN INFO:
Weight:  Light Fingering (2ply) 
Texture:  Plied
Yardage/Meters:  225 yards (205meters)
Skein weight:  50 grams 
Gauge:  28 - 30 sts =  10cm (4 inches)
Recommended needle size:  US 1-2 or 2.25-2.75 mm
Recommended hook size:  US B-1 to D3 or 2,25-3,25 mm
Content: 100% Pure Mulberry Silk
Care:   

Hand wash, cold water. Dry flat.
ABOUT MALABRIGO THE COMPANY:
Malabrigo is a family owned yarn company located in Uruguay and they have developed a line of Hand-Dyed yarns of incredible softness and wonderful color variations. Their products are made out of the softest fibers available and inspired by nature, as well as landscapes, places, art, and day-to-day life. This is what they try to represent when naming their 18 yarn varieties and the range of over 300 colors they come in.
Malabrigo produces yarn because they are passionate about it. They believe in the pleasure of knitting with good-quality, carefully designed, subtly dyed yarns and in the joy of wearing whatever is made out of them.
 Malabrigo's wish is to continue developing yarns and colors to inspire people all over the world, and in return be inspired by them .
IMPORTANT - PLEASE READ
DISCLAIMER REGARDING COLOUR:
One of the drawbacks of shopping online is that every monitor or screen shows colour differently, and therefore the colour of the yarn that you see on your screen may not be a true representation of the actual colour. Therefore, the yarnyou receive may be a slightly different colour/shade from what you expected.
If you have any questions about this yarn, please contact us before you buy.
CUSTOMS DUTY:
If you are buying from outside of Australia, it is possible that you may be charged Customs Duty or other similar charges before your order will be released to you. We are in no way accountable for customs duty, handling fees or taxes that a Buyer may be required to pay upon delivery. We recommend that Buyers check with the appropriate authority in their country before they buy.
POSTAGE/SHIPPING:
Postage/Shipping charges are based on item $ value, weight, bulk and destination. No shipping calculator is sophisticated enough to accurately compute postage and you may be overcharged. If this happens, please rest assured that we refund any shipping overage.
NB: Domestic Shipping - Australian Customers pay base shipping only - no extra charge for additional items.
INTERNATIONAL CUSTOMERS:
Shipping is set so that tracking kicks in at a certain value+weight point which can result in overcharging for orders of more than 4 items. So is best to ask for a postage/shipping quote before you buy.
DELIVERY TO MULTIPLE DWELLINGS/SHOPPING CENTRES/OFFICE BUILDINGS:
NB: Delivery to a multiple dwelling/office/shopping complex must have tracking, so do not select Regular Mail. If your delivery is to one of the above types of address and you have chosen Regular Mail instead of Prepaid Satchel with tracking or Express Post, you will be voiding your right to make a claim against the Seller for loss of, or damage to your order in transit.